Matt Gentile
As BabyFirst continues its transition into a basic cable net, the company has appointed Matt Gentile to the newly-created post of svp, Advertising Sales and Sponsorships. The channel's current distribution is currently at 35 million homes and hopes to break 50 million by the end of the year. Previously, Gentile worked as vp, Advertising Sales for Comcast/NBCU for 13 years, at nets such as Sprout, E! and Style. When Matt is not busy running around with his three daughters he is a passionate cyclist and loves to cook. He hopes to ride in his first Century (100 miles) this summer. His idea of a perfect Sunday is preparing a big Italian family meal with his daughters at his side helping.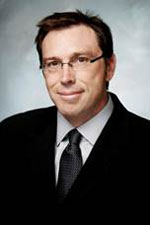 David Laughlin
David Laughlin was upped to vp, Human Resources for Starz. He's charged with developing strategic HR initiatives, including matters related to employee relations, recruiting, compensation, benefits and organizational development. Prior to the promotion he served as director, Human Resources, since 2007. He also worked at The TriZetto Group, Inc., as director, Human Capital Management. During his first stint at Starz he was a senior manager of HR and manager of employee relations.
Mario Ruiz
Telemundo Media has hired Mario Ruiz as svp, Talent Development and Strategy. He'll spearhead the company's on-air talent business strategy and support partnerships with key stakeholders. He comes from the Latin Academy of Recording Arts & Sciences (LARAS), where he was a consultant and executive producer since 2011. Ruiz also served as vp, Talent at Univision and held executive posts EMI Music Group President. Additionally, he was CEO of EMI Mexico, vp, Marketing of EMI Music International in London and director, Artist & Repertoire (A&R) and Marketing for EMI Music Latin America. What does Mario like to do in his down time? "Love my Koi fish," he says. This is true. He has a 16,000+ gallon Koi pond. Also, he's a red wine fanatic—"a collector of both 'old world' and 'new world' red wines."
Gary Auerbach
Gary Auerbach has been tapped for the evp, Development & Programming for Wilshire Studios, formerly Comcast Entertainment Studios. He comes from Go Go Luckey Entertainment, where served as founder and partner. Series he oversaw include MTV's "Laguna Beach: The Real Orange County," A&E's "Paranormal State," and Discovery Channel's "Ghost Lab." He will head up all development and production of current series. Here are a few: "The Soup," "Fashion Police," and BBC America's "The Nerdist." "After 15 years running independent companies, it will be exciting to see the view from the other side, and I look forward to working with many of the fantastic creative partners that I've collaborated with throughout my career," said Auerbach in a release. Of note: He clinched the Peabody Award for his two-hour doc, "Decade." Auerbach founded Go Go Luckey in 2002, but before that worked as a writer, director, showrunner and producer for several MTV series, including "Punk'd," "Singled Out" and "The Jon Stewart Show." He also was co-owner of Mindless Entertainment for Fox Television Studios.