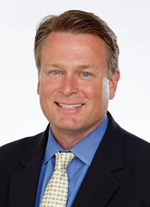 Aaron Taylor
Aaron Taylor has been upped to svp, marketing for ESPN. He'll manage all facets of the ESPN brand—television, digital, mobile, radio and print media—and build on the company's "This is SportsCenter" campaign. Taylor has worked at ESPN for 14 years, having started at the company as director of advertising and program marketing. Other positions included vp roles in brand management and sports marketing. Prior to ESPN, he was vp, account director at ad agency Young & Rubicam, where he worked with brands such as KFC, Molson Breweries USA, AT&T and Johnson & Johnson. Fun fact about Aaron: his first job out of college was as a driver and gopher for the partners of the lobbying/political consulting firm Black, Manafort, Stone & Kelly. In fact, he spent an afternoon driving former president Richard Nixon around Washington, DC, taking him to the State Department to meet with then Secretary of State George Schultz before the Secretary's trip to the Soviet Union. Also, Aaron's wife's name is Taylor. That's right. She goes by Taylor Taylor.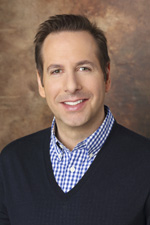 Adam Bonnett
Disney Channel has upped Adam Bonnett to the newly created post of evp, original programming. Oversight of live action development and original series and movies for Disney Channel and Disney XD, as well as casting and talent relations, fall under his purview. Bonnett began at Disney Channel 16 years ago. Shows under his belt include "Wizards of Waverly Place," "Hannah Montana," "The Suite Life of Zack & Cody," "Lab Rats," and many others. Adam tells us he loves to hike and frequently explores new trails in and around Los Angeles. Also, he and his partner Daniel Krog are Mid Century Modern design and architecture enthusiasts. They love discovering authentic "Mid Mod" pieces and vacationing at their home in the jungles of Puna on Hawaii's Big Island.
Vin Zachariah
BCI Broadband has hired Vin Zachariah and Diane Quennoz as svps of residential services and marketing, respectively. Zachariah comes from Mediacom Communications where he held the role of svp, field operations and fulfillment. At BCI he'll head up the residential services business unit. Before Mediacom he held senior operations leadership positions for 8 years at Time Warner Cable, his last post being regional vp. He also worked in corporate finance and strategy roles at Pinnacle Towers/Global Signal and investment banking at Salomon Smith Barney. Vin has informed us that he really likes donuts. So much so that every business trip to the southeast requires a visit to a Krispy Kreme for good luck. "Particularly when the hot light is on!" he says. Another lesser-known fact about Vin: His youngest daughter was born on September 9, 2009. So she gets to say she's a 9/9/09 baby.
Diane Quennoz
Quennoz comes from Insight Communications where she was vp, marketing and customer experience. Her duties at BCI include responsibilities for all marketing, branding and product development. Her work at TWC entailed leading the marketing and sales integration of Insight's 750,000 customers into Time Warner Cable following the March 2012 acquisition. Quennoz also held top marketing roles in telecom, tech and consumer electronics companies, such as Frontier Communications. Diane confesses that she has an unrequited obsession with "The Deadliest Catch" and Alaskan king crab. She loves the Hillstrand brothers, Jonathan and Andy. Diane actually met Andy on a business flight once. Utterly star struck, she could only manage the words, "I love your boat."
Joel Feld
One World Sports has appointed
Joel Feld to svp, production and executive producer and Ricardo Venegas to CFO. Previously, Feld spent 6 years at NESN as evp, programming and executive producer. He also worked at ABC Sports at the start of his career and had stints in sports broadcasting at FOX Sports, Marquee/SFX Television and CSTV Networks. Industry accolades for his production work abound: 8 national Emmy Awards and 7 Cine Golden Awards, for events such as 4 Olympics, 3 Tour de France, the FIFA World Cup and ABC's Wide World of Sports. Joel is big on traveling. True story. He's logged visits to all 50 states. Also,
he plays both the electric and acoustic guitar and has been a member of a succession of bands since his very first in the sixth grade, called "the Rubber band."
Ricardo Venegas
Venegas has held top finance positions in media the past 2 decades, most recently as CFO of CloudBurstTV LLC, a private equity-backed company that's bringing broadband and IPTV technology to rural markets. Prior to that he was CFO of impreMedia, a leading online and print Hispanic news company. He also served as treasurer of the Journal Register Co. Ricardo, we learned, likes to maintain and race high-performance autos. He has taught autocross and is active in Tire Rack Street Survival, which teaches teens how to navigate emergency driving situations. He also tells us he was a competitive sailor after college and finished fourth in the Puerto Rico Qualifiers of the Central American/Caribbean Games in 1993.