Bill Keith and Nancy Cohen
UP network, formerly GMC TV, has hired two new executives: Bill Keith as vp, creative services and Nancy Cohen as svp, ad sales. Keith comes to the network from Atlanta-based Crawford Media Services, where he served as executive producer. Prior to that, he was vp of the creative solutions team at The Weather Channel. Other stints include principal owner and creative director of his marketing company Bill Keith Creative, Inc., whose client roster included The Weather Channel, Turner Studios, Scripps Networks, GMC and more; senior writer and producer for Tribune Creative Services Group; and on-air promotion manager/producer for TBS. Bill tells us he loves the beach—Wrightsville Beach, NC, in particular, where he started his career in TV at the local station WECT. One of his most satisfying projects entailed returning there nearly 30 years later to shoot a series of promos with The Weather Channel's legendary Storm Tracker, Jim Cantore.
Nancy Cohen arrives at the network from NBCU, where she was director, women at NBCU Sales. Other positions include national sales manager for WNOL/New Orleans, a stint in cable network sales at Viacom, svp of sales at Outdoor Life Network and senior account executive at Oxygen Media and National Geographic Channel.
Michael Eisenbaum
Animal Planet has promoted Michael Eisenbaum to vp, on-air creative and Jamie Dugger to vp, creative. Dugger will lead off-air branding and campaign development while Eisenbaum will oversee on-air and ad sales efforts. Both will produce the net's Upfront and Television Critics Association presentations as well. Eisenbaum was upped from the senior creative director of marketing role, which he's held since 2011. Prior to Animal Planet, he was a writer/producer for Discovery Kids, and before that he wrote and produced for Syfy and worked as a segment producer on the Howard Stern Radio Show. Michael tells us his wife Toni is a handbag designer who politely refuses to take his odd suggestions and pitches for new handbag designs. Also, he once co-owned and ran his family's Cuban sandwich shop in Little Havana, Florida.
Jamie Dugger
Dugger came to Animal Planet in 2007 and has worked on development and branding for the network since then. Before joining the company he led promotional campaigns for Discovery Kids. He was also a freelance producer at Crossroads TV, where he worked with nets like NBC, HBO, ESPN and series such as "Sex and the City." Jamie is passionate about music. You might find him frequenting venues in NYC, listening to new artists who he can later plug into promoting the Animal Planet brand.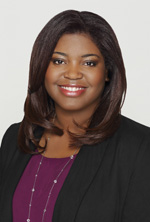 Naketha Mattocks
Naketha Mattocks was appointed vp, original movies, Disney Channels. She's charged with supervising creative development for the Disney Channel Original Movie franchise and will develop scripts, collaborate with directors and writers and oversee creative storytelling. Before Disney she produced indie films and TV series for brands including ABC Family, Lifetime Television and CBS Films. She was also head of development for writer/director Gary Ross (The Hunger Games, Seabiscuit), an exec at Paramount Pictures and vp of development for Barry Levinson and Paula Weinstein's Baltimore/Spring Creek Pictures. Naketha serves on the Women in Film Foundation Board of Trustees, the philanthropic arm of Women In Film. Through this organization she mentors young women who are up-and-coming writers, directors, actors and producers. More about Naketha: She was born in Kingston, Jamaica, and lived briefly in Reading, England, before her family settled in Bloomfield, Connecticut.
Ben Gerst
FOX Sports has hired Ben Gerst as svp, platform development for FOX Sports Digital, a new position for the network. He'll play an integral role in the relaunch of FOXSports.com, which will serve as the digital hub for the upcoming national network FOX Sports 1. He comes to FOX Sports from the NY Times, where he was executive director of platform technologies. He joined the paper in 2005 at the start of its digital development strategy. Ben has been a tech guy for quite a while. In fact, he's been writing code since he was 10. He's a bit of a self-professed geek, too. "I love consumer electronics, music, video games, all things Star Wars and building computer systems that scale," he says. And, his claim to fame: "I was in a photo on the homepage of the Detroit Free Press, clearly frowning in the stands behind Chris Osgood when the Penguins dropped game 4 of the 2008 Stanley Cup Finals 2-1. Thankfully, my parents framed that moment in time for me."