Jim Prendergast and Dan Weinberg
NBC Sports Group has hired two sales execs, Jim Prendergast and Dan Weinberg, as directors of sales, NBC Sports Ventures. They are responsible for growing revenue for the company's portfolio, including Alli Sports, the PNC Father/Son Challenge, the Rugby Sevens Collegiate Championship and the American Century Golf Championship. Jim came from NFuse Marketing, where he held the role of director, sales & business development. He also served as general manager of national sales for the Big East Conference at IMG Sports & Entertainment. Jim tells us he's run two NYC marathons and attended the "Miracle on Ice" Gold Medal hockey game at Lake Placid Winter Olympics. Also, this stint at NBC is his second go-around. He started his career as a Page at NBC. Before joining NBC, Weinberg was head of global sales for the obstacle course adventure challenge Tough Mudder. (He's run three of them himself.) He has also served as director of business development for Elite Marketing Group. Dan's first job: a ball boy for the Nets.
Thomas Nielsen
Cloud content services company Brightcove Inc. has hired Thomas Nielsen as senior vice president of products. He's charged with oversight of the company's product strategy, delivery and future innovations, and will lead Brightcove's product development, product management and engineering teams. Nielsen has more than 20 years experience in digital media. His most recent position was president and CEO of RealNetworks. Other roles include vice president of the Digital Imaging Group at Adobe Systems and senior product management, research and development positions at Adobe Systems, Microsoft and MGI Software. Thomas was born and raised in Copenhagen, Denmark. His free time is spent writing screenplays and restoring vintage pinball machines.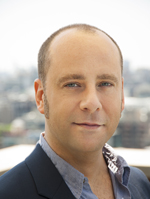 Charlie Foley
Charlie Foley has been appointed executive vice president of Discovery Communications' new Original Content Group. He's charged with writing, creating and executive producing scripted and nonfiction series and overseeing a content-creating team. Additionally, he will continue to oversee Animal Planet's development department. At the network he created "Mermaids: The New Evidence," and "Mermaids: The Body Found," as well as "Dragons: A Fantasy Made Real," "River Monsters" and "Whale Wars." Foley also worked at National Geographic and within the independent production community. Charlie tells us that before coming to Discovery he took time off to travel. He witnessed tigers on a kill in India, was stung by a scorpion in Australia and was in Bangkok during the coup d'etat in Thailand. A former ambition of his was becoming a marine biologist, specifically to study great white sharks. However, he never saw one up close until a few weeks ago, while diving with them on a project for Discovery. "They look a lot bigger under water," he says.
Stephanie Fried
In other Discovery news, Stephanie Fried has been named vice president of digital insights & marketing. She comes from VEVO, where she was vice president of research insights & analytics. There she led the development of a new cross-platform analytics system. Fried also served at the director of digital research at NBC Universal. At Discovery, she will head up audience and sales research across the company's digital properties. Stephanie loves anything and everything from her home state of Michigan. In fact, she sang the national anthem at multiple professional sporting events in Detroit and LA (for the Pistons, Red Wings, Lakers and Kings). Another lesser-known fact about Stephanie: She spoke to Sidney Poitier for an hour on the phone when writing a college thesis on the marketing of African American films in the '50s.
Efrain Lopez
Telemundo Media has hired Efrain Lopez as senior vice president of strategy, a newly created role. He'll develop business opportunities and partnerships and capitalize on market trends in Spanish-language media with the goal of securing content and revenue growth for the brand. He has 18 years of experience negotiating mergers and acquisitions, joint ventures and global business alliances while working at various investment banks. His previous position was Head of Consumer and Industrials America for BBVA. Efrain tells us he used to play professional volleyball in Puerto Rico and even played in the 1991 Pan American Games in Cuba. He loves to cook and has an impressive wine collection—but he never sells any. "My friends "hire" me to cook at their dinner parties—I am a designated chef!" he says. He makes his own Puerto Rican sofrito from scratch, which he uses to make arroz con gandules.