Keith Clinkscales
Sean Combs' music-focused cable network Revolt TV, which launches in the fall, has named its CEO, president and evp of programming and strategy. Revolt's CEO will be Keith Clinkscales, who most recently founded the digital sports platform The Shadow League (TheShadowLeague.com). Prior to that he was a senior vice president at ESPN for 7 years, where he earned an Emmy nomination and two Peabody Awards for the network's "30 for 30" series as co-creator and executive producer. He also launched ESPN Films and executive produced more than 40 films and docs. Additional roles include founder, chairman and CEO of Vanguarde Media and president/CEO of VIBE magazine. Keith tells us he's an unapologetic fan of "Breaking Bad."?Also, his father was a Harlem Globetrotter.
Andy Schuon
Andy Schuon will serve as Revolt TV's president. Prior to joining the network he was president of artist services and head of digital for Ticketmaster. His is also co-founder of radio syndication company "C" Student Entertainment. Additionally, his Elevated Music Group creates custom music channels for hotel-casinos and restaurants. Schuon served as president and CEO of global pop-music network International Music Feed (IMF) and president of programming for Infinity Broadcasting, which became CBS Radio. Other former positions include CEO of Sony/Universal venture Pressplay (renamed Napster), president of multiplatform media company Farmclub.com, evp and gm of Warner Bros. Records and evp, programming and production for MTV. Andy has a great story about his early days as a cable entrepreneur. When he was in high school, his house was located outside the city and not connected to cable. So he took matters into his own hands—literally. "My friends and I dug a trench 18 inches deep and 12 inches wide (per the cable guy) a half acre across our backyard to the nearest connection in the neighborhood." Why? "We wanted our MTV!" Indeed. Ten years later he was the net's head of programming. He also tells us he loves dreaming up new products, though he's not always the first to bring them to market. "You can imagine how I felt when Taco Bell came up with the double-decker taco months after I thought of it."
Val Boreland
Lastly, Val Boreland will be Revolt TV's evp of programming and strategy. Her previous role was svp, program, promotion and multiplatform strategy for Comedy Central. Prior to that, she was vp, scheduling, planning and acquisitions at Lifetime Television. Val tells us she's been a dancer since the age of three.?Also: She's a Michigan alumna. "Go Blue!"?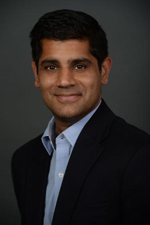 Karim Mawji
Karim Mawji has been upped to svp, digital platform for Viacom's music and entertainment ad sales group, a newly created position. His most recent post was vp, digital ad sales for the Nickelodeon Group. Mawji's new responsibilities include developing strategy for the group that aligns with digital product and editorial of the company's portfolio of networks, including CMT, COMEDY CENTRAL, MTV, MTV2, mtvU, SPIKE, TV Land, VH1, VH1 Classic and Palladia. In addition to creating collaboration between ad sales, integrated marketing and digital groups, he'll oversee alliances with partners such as Twitter and zeebox. Mawji joined Nick in 2001 as an account executive and has served in business development roles at Phase2Media and NetZero. He also worked in sales at Turner Broadcasting and ESPN. Karim enjoys traveling with his family, anywhere they can. They just got back from a trip to Greece and Turkey and have been to Spain and India as well. He likes to cook—everything from Indian to Italian to BBQ—and gives back to the community. For instance, he's on the board of trustees at his daughter's school, the Hollywood School House.
Ian Partilla
NBC Sports Group has tapped Ian Partilla as vp of partnership development for Alli Sports. His responsibilities include oversight of revenue growth for Alli Sports' portfolio, including the Dew Tour, Red Bull Signature Series, Lucas Oil Pro Motocross Championship, Octane Academy and World of Adventure Sports. He'll also work with the NBC Sports Ventures sales team. Previously, Partilla was an account executive for X Games sales and marketing at ESPN. He also worked in sales at Mile High Sports magazine and the Colorado Rockies. Ian, we learned, is an expert skier, having traversed slopes in Peru, Switzerland, France, Canada and the US. Another lesser-known fact about Ian: One of his first jobs was serving as the Major League Baseball mascot for the Colorado Rockies. His character? An eight-foot-tall purple dinosaur named Dinger.