Robert Gottlieb
Fox Sports has upped Robert Gottlieb to evp and head of marketing. He was named to the svp role in February, and after heading up the marketing campaign for the recent FS1 launch earned accession to the evp role. He'll lead Fox Sports' consumer marketing for TV, print, online, radio and outdoor creative, for both on-air and off-air efforts. Before taking on the head of marketing role, Gottlieb oversaw Fox Sports' video marketing assets and campaigns and also supported the creative efforts for Fox Soccer, Fox Deportes, FUEL TV, SPEED and FoxSports.com. He joined the company as vp, creative director of on-air promotions for Fox Sports and FSN. Robert, we learned, has not always worked behind the camera. He once had a cameo as "Lightning" Lou Lescanso in the film "Kickboxer 2: Shadow of the Wolf." He also tells us he once quit a job rather than work on Super Bowl Sunday. Good to know.
Robert Liuag
Our second Robert this week was named vp of research for HGTV and DIY Network. His oversight includes the networks' Knoxville-based Brand research team. Previously, he was head of research for NFL Network and also G4TV. He has held executive and director roles at Fox Sports Net, Paramount, Tele-TV Media and Group W Productions as well. Robert tells us that since he's lived in Southern California for nearly his entire life, his relocation to Knoxville has been inspiring. "It has stimulated a few of my personal passions, such as travel, US history and golf," he says.
Robert Scanlon
And on to our third Robert. Bob Scanlon was promoted to gm of Velocity. Duties include oversight of programming, development, production, marketing and communications. He's been the svp since October 2011. Prior to that he was vp for the Discovery Communications Emerging Networks Group and worked on developing programs for Military Channel and HD Theater. He also managed the creation and launch of the NFL Network and was founding management at both Speedvision Network and Outdoor Life Network. He also got in on the ground at ESPN in 1979, where he played an integral role in programming and network operations. He spend 16 years there, serving as senior coordinating producer for motorsports and the executive in charge of production for college football and Major League Baseball studio production. Bob says he could have embarked on another path, but in college he was faced with a crossroads: "I had to make a decision on whether to pursue a major in music and continue on the path of becoming a professional drummer or major in television/radio. I think I made the right choice." We'd have to agree. Another fun fact about Bob: He's been an occasional instructor for driving stock cars for the Richard Petty driving experience in Charlotte, North Carolina. Go figure.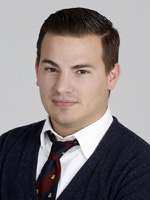 David Ford
The upcoming ABC/Univision network Fusion, bowing October 28, has hired David Ford as vp for corporate communications, effective mid-September. He will join the network from the ABC News PR team, where he led media relations for "World News with Diane Sawyer" and the network's Washington Bureau and investigative team. Before ABC he worked in corporate marketing for the publisher of Rolling Stone, Us Weekly, and Men's Journal. David says he has really broad interests. "I am just as likely to tweet about something happening in Syria as I am about the Real Housewives (@itsDavidFord)," he says. He's also got a lovely dog—a 5-year-old Golden Retriever who he's had since she was a pup. "I can't wait to introduce her to the ocean in Miami," he says. "She has never been swimming."