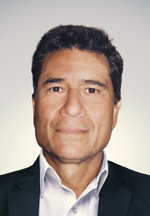 Ibra Morales
Ibra Morales has been tapped as president of MundoFox. He comes from Katz Television, where he served as svp, national marketing. Other previous roles include president of Telemundo Station Group and svp, sales for Hearst-Argyle Television. Ibra tells us he's an accomplished marathoner, which is a bit of an understatement. He's done 36 of them. We kid you not. Also, he's dabbled in triathlons, but learned that he wasn't a strong swimmer when he jumped in the Hudson River and the NYC police had to take him out the water. To this day, his friends still send him life-jackets and life-preservers as presents.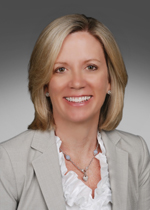 Kathy Payne
Kathy Payne has moved from a top spot at Cox to svp and chief programming officer for Suddenlink. She takes over the post from Patty McCaskill, who will retire after a 35-year stint in the cable industry. Payne will report to Suddenlink's evp and CFO, Mary Meduski. A longtime veteran of Cox, Payne joined the company as an attorney in 1993 and was upped to assistant general counsel in 1999. Other roles at the MSO include vp, content acquisition, in which she played the role of lead negotiator. In total, Payne has negotiated nearly $7 billion in programming deals. Kathy, we learned, does in fact watch a lot of television. Some of her faves: "Game of Thrones," "Homeland," "Walking Dead," and "The Good Wife." Also, she is married and has two very athletic, teenage daughters. As a result, she's been to more school sporting events over the past decade than she can count: volleyball, swim and dive meets, gymnastics, soccer, basketball … and now, Ultimate Frisbee.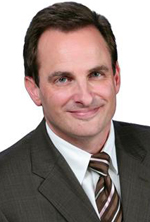 Craig Miller
Craig Miller is now vp, original programming for INSP. He has more than two decades experience in cable programming and multiplatform. Companies on his resume include RIVR Media and Scripps Productions, with development and production experience at A&E, Animal Planet, Biography, CMT, DIY, ESPN, Food Network, MTV and others. Craig told us he
once rescued an injured puppy that turned out to be a coyote—and the pup lived for 17 years. He also studied art in college and still draws portraits of friends and colleagues. (Check out the portrait of his neighbor, Steve, below.) He's also active in the community and serves as president of the Board of Directors of Casa de Sara, a non-profit organization (founded by his wife) that operates a school in Santa Cruz, Bolivia. "This spring, we are racing 40 llamas in what may be the first ever llama race held in Tennessee to raise money for the school." Last fun fact about Craig: He can snap all his fingers at once.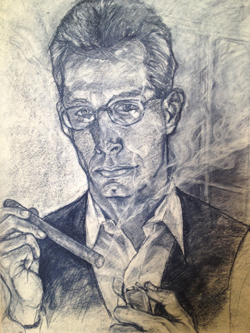 Steve, The Neighbor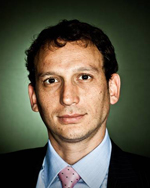 Daniel Eilemberg
Fusion has hired Daniel Eilemberg as chief digital officer and svp. His responsibilities include oversight of the network's digital, mobile and social media platforms. Eilemberg is the founder of the Mexico-based online political and social media news site, Animal Politico. He also worked as editor of business magazine Poder, editor of Hispanic Magazine and Loft Magazine, and has worked in the creative department of Metro-Goldwyn-Mayer. We learned that Daniel studied film and television in London. His first gig was interning at Sean Connery's production company, Fountainbridge films. He also enjoys surfing and snowboarding.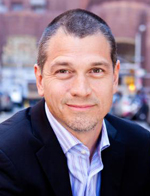 Niels Schuurmans
Viacom has created a new position, evp, Viacom Velocity Creative Content Solutions, and appointed Niels Schuurmans to the post. He'll head up creative execution of branded content for music and entertainment ad sales, which covers MTV, VH1, CMT, Logo, Comedy Central, Spike TV and TV Land. He'll work closely with Dario Spina, evp, Viacom Velocity Integrated Marketing, and oversee the development of partner creative across platforms. Schuurmans' last post was evp, consumer marketing and executive creative director for Spike TV. Prior to that he served as svp and worldwide creative director at Nickelodeon. Niels tells us he once sold art door-to-door as a mime throughout New York City. "The art was so bad I figured if I did it as a mime, people would be distracted and I wouldn't actually have to say anything about it." And it actually worked. The lesson here? "Having a creative approach to sales can pay off!"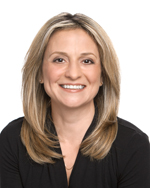 Susie Kricena
Susie Kricena was promoted to svp, program acquisitions at Comedy Central. In this capacity she'll continue to lead program acquisitions, which includes stand-up, series and films. Kricena joined the company in 1999 as assistant manager of scheduling and worked her way up to vp, program acquisitions. She also did a stint in the programming promotion department for HBO and Cinemax for four years. Susie tells us that as a child she was in the East Coast regional tour of the musical Annie. What makes her happiest? A good yoga class.
Allan Infeld
Telemundo Media has upped Allan Infeld to vp, client development. His last position was director, client development, which he assumed when he joined the company in March 2013. Infeld is charged with working with internal stakeholders and business units on all new client development, as well as identifying new ad categories and working with key advertisers. Before joining Telemundo, Infeld was vp, client development and ad sales for the new business group at Univision. He also served as svp, advertising sales and new business development for Cablevision/MSG/Fuse. Allan tells us he's fond of golf (11 handicap) and a proud father of two children in college. He's also a painter, and had planned to be a commercial artist as one point.