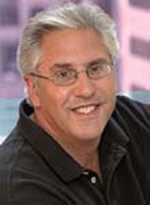 Albie Hecht
Albie Hecht was named evp and gm of HLN, effective September 30. Hecht founded Spike TV (and signed on UFC while there), was president of Nickelodeon Entertainment and at the moment is the CEO of digital entertainment studio Worldwide Biggies. He'll lead all aspects of HLN's programming, management, day-to-day ops and
HLNtv.com
, and report to CNN Worldwide president Jeff Zucker. Hecht's resume also includes the co-creation of Nick's successful Kids Choice Awards, several doc and nonfiction projects through his nonprofit production company Shine Global, a stint as an executive at Lifesong records and founding director of the New Media Lab at CUNY's Macauley Honors College. Albie tells us he's a collector of antique technology. He's also a lifelong Knicks fan—where "fan" is short for "fanatic." Additionally, Hecht was inducted into the 2013 CableFAX Program Hall of Fame this year.
Mark Hollinger
Discovery Communications announced that come June, 2014, Discovery Networks International president & CEO Mark Hollinger will resign. He handles strategic development and daily ops for 42 entertainment brands in 45 languages and 224 countries across the globe. "Having spent 150 or so days away from home during each of the last several years, most often many time zones away, I am looking forward to being back in the U.S. full-time and spending more time with my family," he said in a release. "It really is the only reason I would leave such a terrific company and such a wonderful team of people."
Hollinger joined the company in 1991 as vp and deputy general counsel and also held the roles of COO, president of global business and operations and senior evp and general counsel. Earlier this year he provided a few fun facts for our CableFAX 100 issue. If he went back to high school, he'd be sure to "get a better haircut." On the weekends you'll find him watching English soccer. And the one film that should most definitely not be remade, in his opinion, is Casablanca.
Jennifer Young
Oxygen Media has hired Jennifer Young as vp, ad sales marketing. She'll lead strategy for multiplatform sponsorships, build on the net's "Live Out Loud" sales branding and oversee its upfront strategy. Previously, she was vp, strategic and integrated marketing for CBS Local Media. Other roles included director of ad sales partnerships for Lifetime Television, marketing director for L'Oreal USA, brand director for Hit Entertainment and senior director, marketing—consumer products for Nickelodeon. Jennifer says she loves running, yoga and weight lifting. But she's certainly not healthy all the time. "I cannot live without pizza, bagels and chocolate!" she tells us.
Tom Stevens
Several new hires and promotions took place in NBCU's news group ad sales organization. Tom Stevens was upped to the newly created role of svp, NBCUniversal news group sales. In this capacity he's responsible for strategic oversight of the sales partnerships for NBC News, CNBC and MSNBC. Before the move he was vp, network news sales at NBCU with oversight of ad sales for MSNBC. He also worked for 18 years at Turner Broadcasting Sales, Inc., most recently as svp, sales for regional cable and local broadcast platforms. Having been raised in Philly, Tom is still waiting for the Eagles to win a Super Bowl. In the meantime, he can be found golfing with his two boys, Connor and Carter, playing tennis or cooking.
Christina Glorioso
Christina Glorioso was hired as svp, NBCUniversal news group advertising sales client solutions, also a newly created role. Developing marketing opportunities for clients across the news group falls under her purview. Her last post was CMO at Majesco Entertainment. She also worked at Viacom, as vp, marketing promotions, MTV games and program enterprises and vp for Viacom Plus. Other roles include working in marketing at Clear Channel Media and Entertainment. Impressively, Christina has summited Mt. Kilimanjaro, the highest free-standing mountain on the planet, at 19,341 feet above
sea level
. She's also certified as a Master Scuba Diver, with her deepest dive being 158 feet below sea level in the Blue Hole in Belize.
Lynne Kraselsky
Lynne Kraselsky has been hired as vp, CNBC Sales. She came from ESPN, where she was svp, international sales and sponsorships. Before ESPN she was vp, east coast sales at Reactrix Systems, Inc. She also founded LK Sales Consulting and Project Management, served as vp, corporate partnerships for the nonprofit prize institute XPrize Foundation, vp, sales and corporate partnerships for Wannado Entertainment and held several international sales roles at Turner Broadcasting, Inc. Lynne tells us she's a passionate news and sports junkie (including soccer and cricket), and a lover of great food and wine. She has lived or worked in nearly every continent across the globe.
Ann Scheiner
Lastly, Ann Scheiner will fill Stevens' role with a promotion to vp, sales for NBC News and MSNBC. Previously, she was director, ad sales, CNBC. Scheiner worked as an account executive for primetime and specials at NBCU prior to that and held various account executive positions at NBC News and MSNBC. Ann enjoys tennis, running and crafting with her kiddies. And recently, she took up competing in sprint triathlons.