Christy Dees
Bravo Media promoted Christy Dees to vp, development. She'll continue to develop new original series and serve as executive producer on the upcoming unscripted series "Thicker Than Water." She was upped from the director role. Prior to that, she was an exec at The Style Network and oversaw series including "Kimora: Life in the Fab Lane" and "Tia and Tamara." Christy tells us she enjoys a good scotch and is a big fan of graffiti art.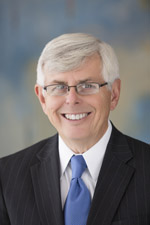 Mark Kroeger
Scripps has named Mark Kroeger as company evp and chief communications officer. He'll play a larger role in corporate communications, which will include leading external and internal strategic messaging regarding media relations, employee communications, investor relations and more. He has been svp of communications and investor relations at the company since 2008 and prior to that served as manager and then the director role. He originally joined the company in 1978 as a general assignment reporter at the company's newspaper in Evansville, IN. We hear he likes to fly things. (He's a licensed pilot.) He's also an American history buff. You are likely to find him devouring biographies of US presidents.
Cheah Chee Kong
In other Scripps news, Cheah Chee Kong was tapped as head of content, creative and marketing of Asia Pacific, effective November 1. He'll lead the development of original productions, programming strategy and creative direction for the nets in the area, including Asian Food Channel, Travel Channel and Food Network. He came to the company from The Group Entertainment, where as a founding member and evp of creative he developed original transmedia concepts for TV, films, events and digital. He also worked as creative director for MTV Japan and served in senior management positions at STAR TV and MTV Asia. A couple of fun facts about him: His short film "Married" won the Best Short Film award at the Singapore International Film Festival in 1994. A connoisseur of wine, he's certified as such by the Wine & Spirits Education Trust.
Steve Grimes
Comedy Central has gone through an internal restructuring to break down barriers between linear and digital, with the intent of mirroring the way its fans consume content. As evp, programming and multiplatform, David Bernath now heads up all programming. CMO Walter Levitt covers fan outreach across all platforms. Kent Alterman, who earlier this year was promoted to president, content development and original programming, will oversee both digital and linear content development. Also part of the restructuring is the appointment of Steve Grimes to the newly created position of svp, multiplatform strategy and development.
Jeffrey Painting
Time Warner Cable has tapped Jeffrey Painting as svp and chief sales officer, business services. He has 25 years of experience in business communications sales, having most recently served as president of business sales and care at CentryLink. There he oversaw a staff of 2,000 and was responsible for more than $3.5 billion in annual revenue. He also held business sales and leadership positions at BellSouth Corporation for a total of 18 years. Jeffrey says he loves tennis, skiing and traveling with family. His favorite spots are Vail, CO, Canada, Italy and southern California.