Ira Bahr
Ira Bahr is TiVo's new CMO. He's responsible for all strategic marketing efforts for the global company. Bahr has more than 25 years of industry experience, including the role of DISH Network's CMO. While at DISH he oversaw product planning and marketing for the Hopper and the satcaster's first mobile apps on iOS and Android. He also led strategic marketing for Sirius Satellite Radio, worked for 13 years at BBDO and most recently he was the CMO for Inspirato, a luxury destination club. Ira tells us he loves poker, fly fishing and ice hockey. While at Sirius, he authored the company's trademarked name. Sirius is named after a star in the Canis Major constellation, and is the brightest star in the Northern Hemisphere. Speaking of radio, in the early years of his career he was a full-time radio news reporter in New York City on stations such as WABC.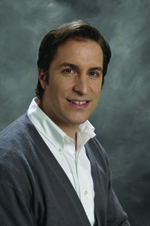 Drew Pisarra
SundanceTV has tapped Drew Pisarra as vp of digital media and marketing. The position entails leading the network's strategy, development and operations for digital platforms, including marketing, brand positioning, product development and new content. He was vp of digital media for AMC most recently, where he build websites for "Breaking Bad," "Mad Men" and "The Walking Dead." Prior to joining AMCN in 2007, Pisarra was senior online editor for New York Magazine. Drew, we learned, has his own blog devoted to Korean movies. Another fun fact: He once had a ventriloquist act entitled "Singularly Grotesque."
Peter Aronson
In other news at AMCN, IFC has hired Peter Aronson as evp of original programming and production. Developing and managing IFC's originals falls under his purview. Previously, Aronson was evp of Alloy Digital. He was also founder and president of multiplatform production company Generate, which Alloy acquired in 2012. Other roles include president of Regency Television LLC, where he developed and worked on hits like "Malcolm in the Middle," "Roswell" and "The Bernie Mac Show," and evp of Walt Disney Television and Touchstone Television. Peter tells us he grew up in London, England, and races sports cars as a hobby.
Leslie Picard
Leslie Picard is now svp of sales and branded solutions for CNN Ad Sales. She'll oversee the net's ad sales national offices in Atlanta, Chicago, Detroit, and Los Angeles. Her previous role was president of branded solutions at Time, Inc., and prior to that she held publisher and sales roles at Condè Nast, Primedia, Capital Publishing and Dow Jones & Company. Leslie tells us she's a Boston Red Sox fan. Big time. Her dog's name is Fenway. Also, she loves spinning and coaching girls soccer on the weekends.
Alison Overholt
In an effort to focus more on editorial strategy, its multimedia business and creating TV integrations, espnW has named Alison Overholt editor-in-chief of the network, effective April 14. Previously, Overholt was deputy editor, ESPN Publishing. She's now charged with developing content strategies across digital, mobile, social, print and video. Overholt runs 183Ink, LLC, and has developed content strategies for Hearst Publishing and Seventeen Magazine, The Breast Cancer Research Foundation and others. She also spent five years at ESPN in roles including senior editor, ESPN The Magazine and founding editor, espnW. She has been an adjunct professor at New York University's Preston Robert Tisch Center for Hospitality, Tourism and Sports Management since 2012. Alison tells us that since she grew up in Hong Kong, she still thinks of soccer every time someone says "football." Impressive fact about Alison: She finished the 2013 NYC marathon—despite having accidentally thrown out her running shoes the day before. Meanwhile at the network, Carol Stiff will assume the role of vp, multimedia strategy and integration, taking on new responsibilities of driving espnW's multimedia business and creating TV integration opportunities the ESPN's and The Walt Disney Company's networks. She joined espnW in February 2013 as vp, content program and integration.
Hong Qu
Fusion has hired Hong Qu as chief technology officer. "Hong will work with our product team to find innovative new ways for us to reach our digital native audience, one that is increasingly culturally and socially connected," said Fusion CEO Isaac Lee in an email to staff. Qu has worked as an engineer at YouTube, where he created channels, playlists and led the company's international expansion. Most recently he was vp of product at Upworthy, which he helped build from scratch. Hong says he is a member of the board of directors of the Asian American Arts Alliance. As a resident of Flushing, New York, he gets to taste gourmet and street Asian food every day.