Elli Hakami
MTV announced today that it's hired Elli Hakami as evp, current series and programming. In this capacity she'll lead strategy and development of the network's East Coast reality series. Hakami most recently worked for BBC Worldwide Productions as svp, programming and production. There she oversaw development, talent and production within the unscripted department. Series she developed include "What Not to Wear" on TLC, "Richard Hammond's Crash Course" on BBC 2 and "Life Below Zero" on National Geographic Channel. Before that she launched Discovery's New York and LA development offices and served as head of development. "Gold Rush: Alaska" and "Dual Survivor" are two series she oversaw. Prior to her tenure at Discovery, Hakami worked in development at truTV, was an editor at New York Times Television and worked in HBO's Original Programming, Documentaries unit. Elli tells us she's the worst driver in Los Angeles. "Sadly, it is true."
Bruce Levinson
TheBlaze has hired Bruce Levinson as vp, content distribution. He comes from NBCUniversal, where he was vp of TV Networks Distribution and oversaw distribution for nets such as USA, SyFy, Bravo, CNBC, msnbc and E! Bruce tells us he enjoys old movies, classic rock and all sports—especially golf. In fact, he used to be a sportscaster for KFDM-TV, a CBS affiliate in Beaumont, Texas. Bruce's claim to movie fame is from the '80s flick Police Academy 5, in which he utters two words: "Hello Dork!"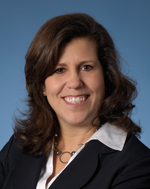 Lisa Fischer
UP has appointed Lisa Fischer as evp, advertising sales. She's charged with leading all ad sales operations for UP and Aspire. Fischer joins the company from ION Media Networks, where she had served since 2010 as svp, network advertising sales. Before that, she worked at Discovery Communications for 12 years, most recently as svp of sales for networks including Discovery Health, Animal Planet, Fit TV, Discovery Kids and Investigation Discovery. Additionally, while at Discovery she launched ad sales operations for OWN: The Oprah Winfrey Network. Lisa, a proud mother of two daughters, loves running and skiing. She shares the latter interest with her husband Ken, who was actually awarded a National Ski Patrol purple heart. Her motto: "All trails lead down for skiing."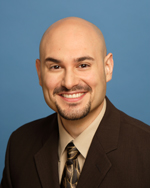 Darren Melameth
Crown Media Family Networks has promoted two programming executives. Darren Melameth is now svp, program planning and acquisitions. He's responsible for acquiring content for Hallmark Channel and Hallmark Movie Channel and will lead the teams devoted to strategic analysis of research and ratings data as well as program scheduling and negotiating co-productions. He joined the company in 2000 as scheduling coordinator. Prior that, he had a dazzling acting career, during which he played such unforgettable roles as studio guard #1, boxing referee and detective #2. When he's not acting or acquiring content, he can be found injuring himself at the local dojo, where he has been practicing Chinese martial arts over the last 20+ years.
Randy Pope
Randy Pope was upped to svp, programming and development, from the vp role. He is charged with complete oversight of development and production of original series and movies for the two networks. He'll also manage the development team and work with Michelle Vicary on a strategic vision for original programming. Before joining Crown Media, Pope was svp, production and development at Larry Levinson Productions.
Tom Lofthouse
Tom Lofthouse was promoted to svp, programming for Discovery Digital Networks. The original online video business of Discovery includes networks such as Revision3, TestTube, Animalist, The DeFranco Network and SourceFed. Before the move Lofthouse was vp, programming and production. Now added to his responsibilities: the management of the San Francisco-based networks Revision3, TestTube and Animalist, as well as oversight of program development and affiliate relations for the whole portfolio. Lofthouse has a decade of experience in digital media programming and production. Before joining Revision3 three years ago, he was director of programming and on-air presentation for Current TV. He also served as a program manager for Disney, head of program planning for Extreme Sports Channel and was an original founder of School of Humans branded entertainment. Tom likes to spend his free time flying his new drone and test driving fast cars.
James Bolosh, Liz Fine
A+E Networks tapped two execs, Liz Fine and James Bolosh, as vp, development and programming for FYI (formerly BIO Channel). Previously, Fine was a co-executive producer for Atlas Media Corp and Left/Right. Shows under her belt include "Mob Wives," "Parking Wars" and "Chopped." Liz has earned two Emmys for her work producing the Olympics. Additionally, she tells us he once appeared on QVC as a doll expert for Madame Alexander.
James Bolosh has worked at HGTV, MTV, VH1, CNBC and other nets. Shows he has worked on include "House Hunters International," and "HGTV Design Star" at HGTV, as well as "FriendZone" for MTV and "Driven" for VH1. James, we learned, was born on the Fourth of July. Also, he started his career in Nashville, as an art director for music videos, which earned him a membership in the National Academy of Recording Arts and Sciences.