Comic-Con's Live Coverage From Cable Nets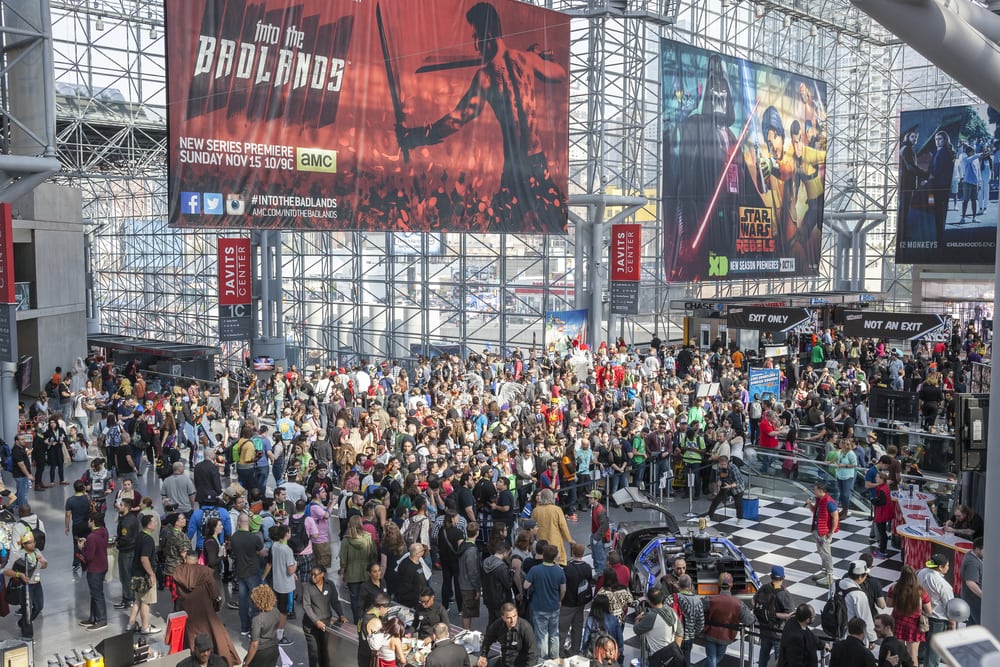 Comic-Con is the cable industry's opportunity to attract comic and popular art fans through characters, movies and TV series. And the 47th Comic-Con International, taking place in San Diego July 21-24, continues to cable network coverage. One thing that stands out this year: Several networks will allow audiences to experience Comic-Con in real-time with live broadcasts.
TBS's Conan was the first ever late-night host to air live shows from Comic-Con—and he's continuing the tradition this year. With special Comic-Con edition shows airing July 20-24 at 11pm (ET), this year's star-studded lineup includes Will Smith, Margo Robbie, Jared Leto, the cast of "Suicide Squad," and the stars of "Game of Thrones" and "Silicon Valley." Conan will be giving away new Pop! Vinyl figures to audience members and event attendees. AT&T and Snickers are partnering with TBS and Conan to bring CONAN360 virtual reality, custom costumes and more.
To honor the 30th anniversary of "Double Dare," Nickelodeon will bring back original host Marc Summers for a live edition of the game show on July 22, streaming via Facebook Live at 9:30pm (PT).
Syfy will introduce their first ever three-night broadcast special "Syfy Presents Live from Comic-Con" with host Will Arnett from July 21-23 at 8pm (CT). Arnett will discuss Comic-Con breaking news and exclusive insider content of the most anticipated films and TV shows, and conduct interviews with franchise stars.
For exclusive access to all things Comic-Con, Comic-Con International and Lionsgate launched Comic-Con HQ. This ad-free streaming service features a variety of content—from original scripted and unscripted series to more than 250 highly curated films and TV shows to live and archival programming—24/7, 365 days a year. Learn more about Comic-Con HQ here.
Here are more of this year's cable highlights:
Comedy Central will offer fans the opportunity to insert themselves into 20 iconic "South Park" scenes in The South Park 20 Experience. Fans will also have an exclusive sneak peek into the new video game "South Park: The Fractured But Whole" and a panel to discuss the series' evolution and to answer audience questions.
Cartoon Network delivers fan dreams by featuring a plethora of network series, beginning with a one-of-a-kind experience for "The Powerpuff Girls" fans. Blossom, Bubbles and Buttercup balloon floats will soar above a Townsville-inspired booth where fans can leave with their own custom-printed t-shirt or tote bag. Cartoon Network will also debut panels for "The Powerpuff Girls," "We Bare Bears," and the first ever musical panel for "Steven Universe," where Grammy Award-winner Estelle will sing along with cast, crew and fans. The Screening and Costume Ball returns with exclusive sneak peeks to shows, including the new "Ben 10" franchise, and will unveil a clip of "Mighty Magiswords." "Adventure Time Card Wars Doubles Tournament" will test fans' card skills. "Teen Titans GO!" and "Justice League Action" will also be featured at Comic-Con.
FX brings "Archer Live!" to Comic-Con with a one-night only special performance of the show aboard the Inspiration Hornblower yacht on July 21. The entire cast will perform an episode while fans enjoy food, drinks, giveaways, a photo booth and a lounge. FX will broadcast Archer Live! at the FXhibition as part of a special 'silent disco' feature on July 23. FX's "FXhibition" features innovative activation and arts installations for fan-favorite shows "Archer," "American Horror Story," "The Strain," "It's Always Sunny In Philadelphia," and "Sex&Drugs&Rock&Roll." The FXhibition creates a virtual reality for American Horror Story fans, testing participants' fears as they journey through scary encounters. The It's Always Sunny in Philadelphia Pub provides refreshing water on tap where consumers can take home a branded collapsible cup. FX will also debut exclusive original videos host panel Q&A discussions for "Archer" and The Strain.
AMC will hold panels and autograph sessions for fan favorite "The Walking Dead" and prequel spin-off "Fear the Walking Dead." A Fear the Walking Dead yacht will be open for fans to experience life aboard the Abigail. The cast of "Preacher" will live read the script of a season one episode and host a panel. Fans will also get a preview of the network's newest late night talk show "Geeking Out" during the panel with hosts Kevin Smith and Greg Grunberg. Geeking Out will premiere with a special Comic-Con episode on Sunday, July 24 at 10pm (ET).
To honor its fifth and final season, BBC America will host its farewell "Orphan Black" panel for fans on July 22.
For "My Little Pony" fans, Discovery Family Channel will air a Comic-Con themed episode, "Stranger Than Fan Fiction," on July 30 at 11:30 (ET). The episode will feature the new character "Quibble Pants," voiced by comedian Patton Oswalt.
Destination America will bring together the top ghost hunting investigators with a Supernatural Super Panel on July 22 at 7pm (ET). Nick Groff and Katrina Weidman from "Paranormal Lockdown," John Zaffis from "Haunted Collector," and Adam Berry and Amy Bruni from Destination America's newly greenlit series "Kindred Spirits" will host.
Comic-Con, the country's longest continuously-run comics and popular arts convention, begins with a Preview Night on Wednesday, July 20, and runs from Thursday, July 21 – Sunday, July 24 at the San Diego Convention Center. Visit http://www.comic-con.org/frontpage for all things Comic-Con.