Comic-Con: Celebrating the Anniversaries of Classics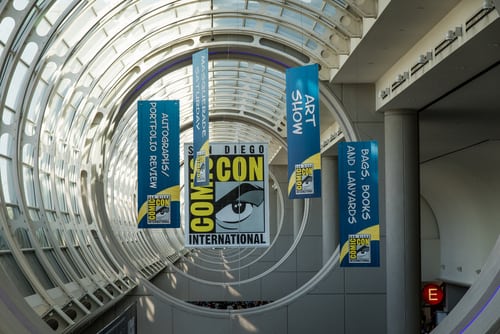 Comic-Con has always been about what is new and what is next. But celebrating the classics of the past is just as important. Remembering the past is how we realize how far we have come in movies and TV shows. When Comic-Con kicks off Thursday in San Diego, there will be plenty of exhibits highlighting new shows, but some programmers also will take time at the annual gathering to look back at their roots.
No one can forget about the iconic yellow sponge, SpongeBob. Celebrating 20 years in 2019, Nickelodeon's "SpongeBob Squarepants" is presenting a panel with co-executive producers, as well as voice actors from the show, including Tom Kenny (SpongeBob), Bill Fagerbakke (Patrick), Marc Bumpass (Squidward) and more Thursday. They will be talking about the new special "SpongeBob's Big Birthday Blowout!," a live action-animated hybrid episode that debuted this month. The July 12 special drew 2.2 million total viewers across Nickelodeon, TeenNick and Nicktoons, ranking as the No 1 kids' program for the year. On the heels of impressive ratings, Nick renewed SpongeBob and the gang for a 13th season.
SpongeBob's presence will be felt daily at Comic-Con, with attendees greeted by replicas of The Chum Bucket, Mrs. Puff's Boating School and The Krusty Krab. Autograph and photo opportunities will be available during select times as well.
While they still seem pretty juvenile, Comedy Central's "South Park" kids are celebrating the 20th anniversary of their feature film "South Park: Bigger Longer Uncut." A nine-hole mini-golf course will pay homage to the movie, and there's limited edition T-shirts available for purchase during a limited window from Thursday to Sunday.
With 2019 marking the 80th anniversary of Marvel, Disney will host 10 panels covering everything from ABC's "Agents of S.H.I.E.L.D." to the women of Marvel. It'll also offer behind-the-scenes looks on the making of some classic shows, such as "Spider-Man" and "The Incredible Hulk," and how they impacted the modern-day Marvel superheroes. Disney's Saturday panel, "10 Years and 200 Episodes" features Marvel's vp of content & character development Sana Amanat and producer Judy Stephens.
Disney is also celebrating several film milestones this year, with "Sleeping Beauty" turning 60, "The Little Mermaid" marking its 30th anniversary, and "Tarzan" turning 20. At a Thursday afternoon panel, six animators of the movies are scheduled to appear to talk about their experiences and the influence of these films of past and future.
In the spirit of anniversaries, it's worth noting that "Parks and Recreation," one of the most rewatched series on both Hulu and Netflix, turns 10 this year. Persisted Media Group/Positive Pop Culture founder Jessica Tseang will host a Friday evening panel to observe Leslie Knope's love of waffles and government. Writers, producers and members of the cast will reflect on the legacy they left and where it will lead them to next.
Of course, there's always something new at Comic-Con too. Since missing last year's conference, HBO is bringing a "Game of Thrones" cast panel this year. The series finale concluded on May 19, with record-setting viewership for HBO for a single telecast and premiere night viewing. Not surprisingly, HBO is developing multiple possible GoT spinoffs.
Other Comic-Con fun includes TBS stocking vending machines with "Bug Bars," made out of cricket protein powder, to hype new sci-fi series "Snowpiercer." SYFY will be driving around in its karaoke bus and trivia trolley, featuring songs and trivia from the '80s, '90s and 2000s. Premium net EPIX will take over the Oxford Social Club for an immersive experience tied to upcoming series "Pennyworth" (premieres July 28). The lounge will be transformed to look like something out of London in the 1960s, with a secret password giving Con goers admission to a high-society lounge filled with gambling, drag performances and 1960s style band.
A newcomer to Comic-Con this year is Ripley's Believe It or Not!, which will transform Petco Park into Ripley's, Believe It or Not! Car Lot. Inflatable tube men, human car washes and a pinball arcade are only the beginning of the opening show. Sitting at booth #4051 inside the convention center, Ripley's Garage is open to viewing props such as shrunken heads and the original Star Wars lightsaber. Bruce Campbell, host of Travel Channel's Ripley's Believe It or Not!, will host a Saturday panel looking at Ripley's odd past and open to general Q&A.