Come Sail Away on a Cable Cruise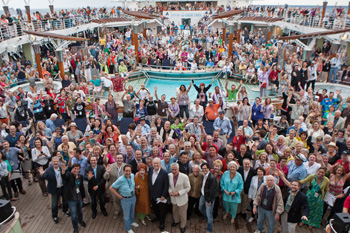 TCM's 2nd "TCM Classic Cruise" set sail this past January
As online fan communities proliferate around a TV show or network, the next step for many of these groupies is to step out of the virtual world and meet up in real life. Some fans arrange informal get-togethers or meet at shows such as Comic-Con, while networks bring talent to community events affiliated with multichannel video providers. But some cable nets are taking it further by moving everything to the high seas.
Music-themed cruises, such as the upcoming Lynyrd Skynyrd Simple Man Cruise VII, have long been popular. Cable networks are trying their hand as hoisting the sails. On Thursday, Bravo's first
Top Chef Cruise
set sail aboard the Celebrity Constellation, disembarking from Miami with stops in Key West and Cozumel. TCM hosted its first "TCM Classic Cruise" in December of 2011, and just completed
its second voyage
at the end of this past January. The next TCM cruise will be announced in the coming weeks.
"These fans are affluent and very passionate. They're evangelists for us," said Dennis Adamovich, svp, digital, affiliate, lifestyle and enterprise commerce for TCM, TBS and TNT. "They talk on all the social networks more and more about the brand. It's a big brand play for us. And we do shoot quite a bit from the ship [for on-air]." He said people have even ended up meeting on the trip and getting married. And don't think a cruise and classic movies means the passenger list is limited to the over 60 crowd, with Adamovich saying there is huge cross-section, including a large contingent of 25- to 35-year-olds, families and yes, some retirees.
Bravo's virtually sold-out cruise is billed as a culinary excursion, with "Top Chef" and "Top Chef Masters" contestants as well as host Tom Coliccchio and Gail Simmons onboard. Activities include eating, cooking demos, quickfire challenges, kitchen tours, Q&As and non-food fun, such as jogs with chef Richard Blais or Ping Pong with Spike Mendelsohn. And who knew that Fleur de Lys' Hubert Keller is a DJ?

"We have been looking at cruises and trying to find a way to do the full Top Chef immersion for a couple years. We had to wait until we had enough content that we could program a cruise and make sure that people really, really feel the full experience and there are no moments of 'oh, I'm just on a cruise,'" said Bravo svp, marketing Ellen Stone. "We also had to find the right partners. We had to make sure we felt really right about the ship." Bravo is working with Celebrity Cruises and touring company Rose Tours for its inaugural outing. TCM partners with theme cruise company Sixthman for its expeditions.
Bravo is also using its Top Chef Cruise to bring about 20-30 ad sales clients. "The more we can get our partners to understand the full experience of Top Chef, the better and stronger our partnerships will be," Stone said. Senior management, including Bravo and Style pres Frances Berwick, are also on the trip.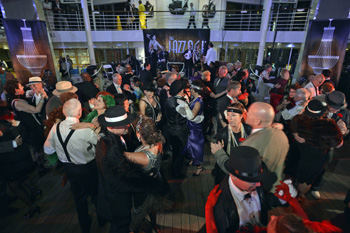 Dance lessons are offered on TCM cruises
The five-day TCM cruises have sold out in just a few weeks, all 2,000 or so spots. The network launched the initiative following the success of its film festival. In addition to about 50 movie screenings, there are panels with stars (past celeb guests included Mickey Rooney, Tippi Hedren and Ernest Borgnine along with TCM hosts Robert Osborne and Ben Mankiewicz), dance lessons, trivia with Alex Trebek and lots of special touches. Dry-erase boards outside each cabin announce the occupant's favorite film, inviting comments with markers and verbal conversation from shipmates. "Every single thing on the ship is related back to our network in some form or fashion," Adamovich said.