Comcast Gets Washington in Olympic Spirit
For those in Washington, D.C., who couldn't make it to Sochi, Comcast NBCU brought a little of the Games to them. An Opening Ceremonies party at the Newseum Fri drew a nice crowd, who were joined by Russian ambassador Sergey Kislyak and several former Olympians, including Cara Heads (weightlifting, 2000) and rowers Linda Miller (2000) and Sam Stitt (2008, 2012). And to burn off the calories consumed via the s 'mores stations and vodka ice bar, event organizers set up a curling sheet. Not good at curling? Try Wii U's "Mario and Sonic at the Sochi Olympic Winter Games" from the video game lounge set up by the Entertainment Software Association.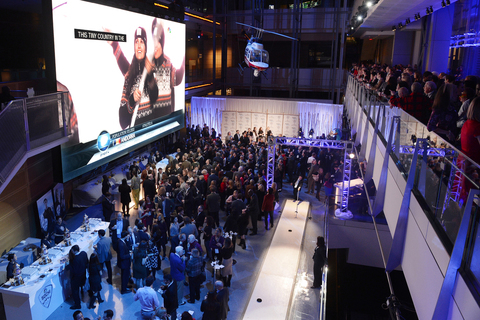 The venue also featured perhaps the largest screen display and several Samsung 4K sets that showed some of the action in a resolution 4 times the pixels of 1080p HDTV. One of the biggest selling points of 4K, or UltraHD, is the immersive nature of television viewing it can offer, Mark Francisco, fellow with Comcast's Office of the CTO, told us. UHD offers more stunning details and may offer deeper color and expanded light ranges than HD, he said. UHD is also about "the care we took in video… It forces us to focus on video quality," he said. The latest technology is "very close to the native resolution" that modern movie cameras capture, giving viewers a cinematic experience in the home. While the MSO will start rolling out 4K services directly to compatible Samsung TVs, it's also working on next-generation set-tops for its X1 platform using HEVC technology, Francisco said. The set-tops can decode native 4K signals.
NBCU is carrying the Games "unlike any of the other Olympics that have been carried before," evp David Cohen said. He was referring to the more than 500 hours of televised coverage, the most ever for a Winter Olympics (Vancouver featured 436 hours in 2010). This year's Games will be special also because the net is providing more than 1,000 hours of live streaming via NBCOlympics.com and the NBC Sports Live Extra app, without tape delay. The net isn't doing it alone: It's working with partners like Adobe, Akamai and Harmonic on multiplatform coverage.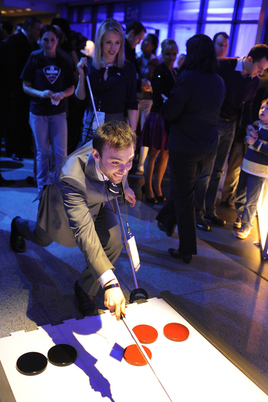 The highlight of the night came when the crowd cheered for Team USA as the athletes entered the stadium. Recalling her experience representing Team USA in the opening ceremony in the Sydney Olympics, Linda Miller told us "walking into the stadium with your whole delegation and hearing the crowd was just unreal… It was an unmatched experience."