CNBC's Jim Cramer Talks 'Mad Money' and Stock Picks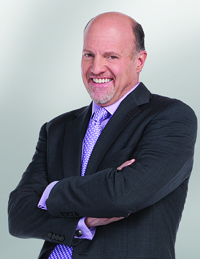 Jim Cramer
Host, CNBC's "Mad Money with Jim Cramer"
Each year, CableFAX's editors pick a select group of programming execs and/or talent whose innovation, creativity and intelligence have made a serious contribution to the content landscape. Our Program Hall of Fame is reserved for those who over many years have consistently succeeded where others have failed, surmounted obstacles that others have not and have influenced the entire industry with their innovative approaches. This year, we selected 4 individuals who encapsulate these qualities in different ways, and we asked them to give us some insight into their mastery of the content game. Here is CNBC's Jim Cramer.
What's the most satisfying thing about reaching viewers every day?
My show is a giant classroom and I can reach millions of people and teach and coach them about how to handle their own money. What a blessing it is!
What has surprised you the most about reaction to Mad Money, as well as your appearances on other CNBC segments?
It's the familiarity people have with me. I'm Cramer, I'm Booyah Skidaddy. There is a friendship with strangers that is so fabulous, and a rapport beyond what I ever thought possible with every age group and with people who range from those who have never bought a stock or can't afford to buy a stock to billionaires who trade stocks for fun.
What's the biggest challenge for the stock market and this economy in the coming year?
To create jobs. Opportunity is everything in this country but you can't participate unless you have a paycheck. For the stock market, it's about cleaning the Augean stables. We need to return the market to its rightful owners, those who want to invest to save and not those who want to scalp and make pennies running ahead of other people. We need to bring back the safeguards and get rid of the "progress" and the "financial engineering" that's really profiteering and making the market inhospitable for the everyday regular investor, the kinds of people who love watching Mad Money.
What's the best interview you've ever conducted on Mad Money and why?
Dan Hesse, Sprint at $2 where he laid out the case for the company staying in business. It was gutsy, he's intelligent, honest, and at the end I said he would make it for certain. Caught almost a triple and it's going higher.
What's the best stock pick you've ever made?
Best stock pick would have to be Apple at $50 at the advice of my kids who were asking for more than one iPod. I realized then that they were fashion accessories. I've been with it ever since.