Chris Berman: The Bigger They Are…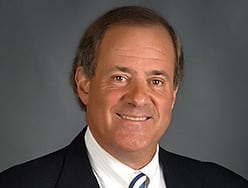 Chris Berman will be inducted into Cable's Hall of Fame tonight as hundreds gather for a celebratory dinner at Chicago Pier during INTX, cable's annual conference.
During a much smaller ceremony nearly seven years ago at the National Press Club in Washington, D.C, Berman, one of ESPN's original employees and perhaps cable's first big on-camera name, was the initial inductee in CableFAX's Programming Hall of Fame.
Certainly, Berman will be a big name among many others during tonight's Hall of Fame festivities. But when he agreed to be our first inductee he was a giant doing a favor for a small but well-regarded publication making an early foray into the events business. He was the sole inductee that day present at the ceremony. CableFAX wasn't yet important enough to justify attendance by others. Berman didn't mind.
Despite his size—I refer here to his stature in sports television, although his physical presence and his stentorian voice make his nickname 'Boomer' well suited—Berman was gracious as heck. He had no entourage, no demands, just a simple request—the former history major from Brown asked if we could arrange a quick tour for him of the National Press Club before the induction ceremony, with an emphasis on the presidents, prime ministers, movie stars and other celebrities who've spoken at the Club.
After the tour, the tour guide, a woman whom Berman had charmed totally, asked for a picture with Chris and an autograph. He complied without hesitation. It was to be the first of many that day.
In fact, one of my favorite memories of that day was Berman, after being inducted, remaining in the Press Club function hall for more than an hour, signing autographs and posing for pictures with well wishers from the audience. I knew he had a flight to catch back to Bristol, Connecticut, but he remained until every last person who wanted one had a photo. A burden? Nah, Berman completely enjoyed himself; he'd catch a later flight, he said. At one point, surrounded by a trio of lovely women and wanted autographs and pictures with him, Berman turned to me, smiling, 'I'd be crazy not to enjoy doing this, right?'
None of this should have surprised. During an early trip to Bristol, a contingent of journalists touring the ESPN campus bumped into Berman in the parking lot. Berman welcomed the group to Bristol. 'Thank you for coming to visit us,' he said and then engaged with the reporters as if they were old friends. OK, sure, every ESPN executive and PR person greeted the group the same way, thanking us for coming up to visit. But this was Chris Berman—surely he hadn't been scripted to say this or act so friendly.
As the journalists discovered that day, this was the ESPN way. Despite being the "world wide leader in sports," it was a humble group. Its employees were proud of the company's growth and success, but grounded enough to understand that relationship building with the press and cable execs was crucial to continuing those trends.
ESPN's then-chief George Bodenheimer, one of the most down-to-Earth executives ever, instilled this feeling of proud humility in his company. In fact, he insisted on it. And it was far from false modesty. Bodenheimer began his tenure at ESPN in the mailroom and later was 'promoted' to physical transport; translated that means he became a driver. One of the pieces of ESPN property he transported, to and from Hartford Airport, was Dick Vitale.
Berman was an embodiment of the proud humility that was ESPN's corporate culture. Like Bodenheimer, Berman had an assist in that he knew the company's roots intimately. His description of ESPN's real estate as "bucolic Bristol, Connecticut" is apt. When he joined the then-tiny sports channel more than 30 years ago after a short stint in local sports broadcasting—'Are you crazy? Leaving a steady TV job to join a cable sports network? Nobody is going to watch sports 24 hours a day!'—the physical campus consisted of a few trailers in a pasture. Honest. Berman had to deftly maneuver his large frame to avoid tracking cow droppings into the trailers. It was hell when it rained.
Still, the best recollection of Berman's induction in 2008 occurred a few weeks later. A letter (remember them?) arrived, hand-addressed in a small, off-white envelope. It was a note from Chris Berman thanking us for inducting him into our Hall of Fame. Chris Berman thanking us? Are you kidding?
About one year later, during another trip to Bristol, Berman greeted me. I told him how impressed and flattered I was to receive his note. His expression turned to bewilderment as if to say, 'I'd be crazy not to have thanked you.'