Challenges Seen in Managing Cross-Platform Delivery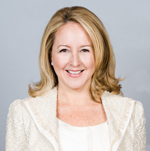 Jennifer Dangar, evp,
distribution, TWCC
Cable nets like the Weather Channel are meeting the rapid growth of IP video-capable devices by extending programming to various connected devices. However, managing different platforms can be tough due to unique requirements for things like video formats, DRM, billing and management approach. Here Jennifer Dangar, evp, distribution & business development at The Weather Channel Companies, discusses the challenges of delivering content across platforms.

How does the net manage different delivery platforms?

Tracking and coordinating cross-platform delivery is a challenge. There are a lot of things that have to be in place to move content from one screen to another. For example, with video, you can't always just re-encode video for another screen. You also may have to put new graphics and overlays on top of the video so that it is viewable on small screens – before you put the video in another digital format. DRM is important as well because we don't always secure rights to redistribute certain video across all platforms. Delivery isn't the hardest part – it's making sure that the video is compelling across all screens and having a workflow that supports managing the differences between the screens.

The world of specifications for different platforms—is it uniformed or fragmented?
They are fragmenting at least by class of device. What users expect from smart phones, tablets and desktops are quite different. Users also don't just want video. They are looking for an experience centered around video. This is why you're starting to see digital versions of other channels with interactivity as opposed to just video.
Any good cross-platform management tools available?
We haven't been seeing a good crop of tools ourselves. Each MSO seems to want to tackle the problem differently.
What's the network's approach to working with cable ops as they move to multiple platforms?

We, like our affiliate partners, recognize that consumer viewing habits are changing and that they are coming to expect video content when and where they want it. We continue to work with our affiliate partners to meet consumer demands to make content available across platforms. But, we must do so smartly. Many cable ops are starting to deliver multichannel video via IPTV. IPTV may better enable cross-platform integration, and so the benefit to a programmer may be that an IPTV provider can help facilitate cross-platform opportunities.