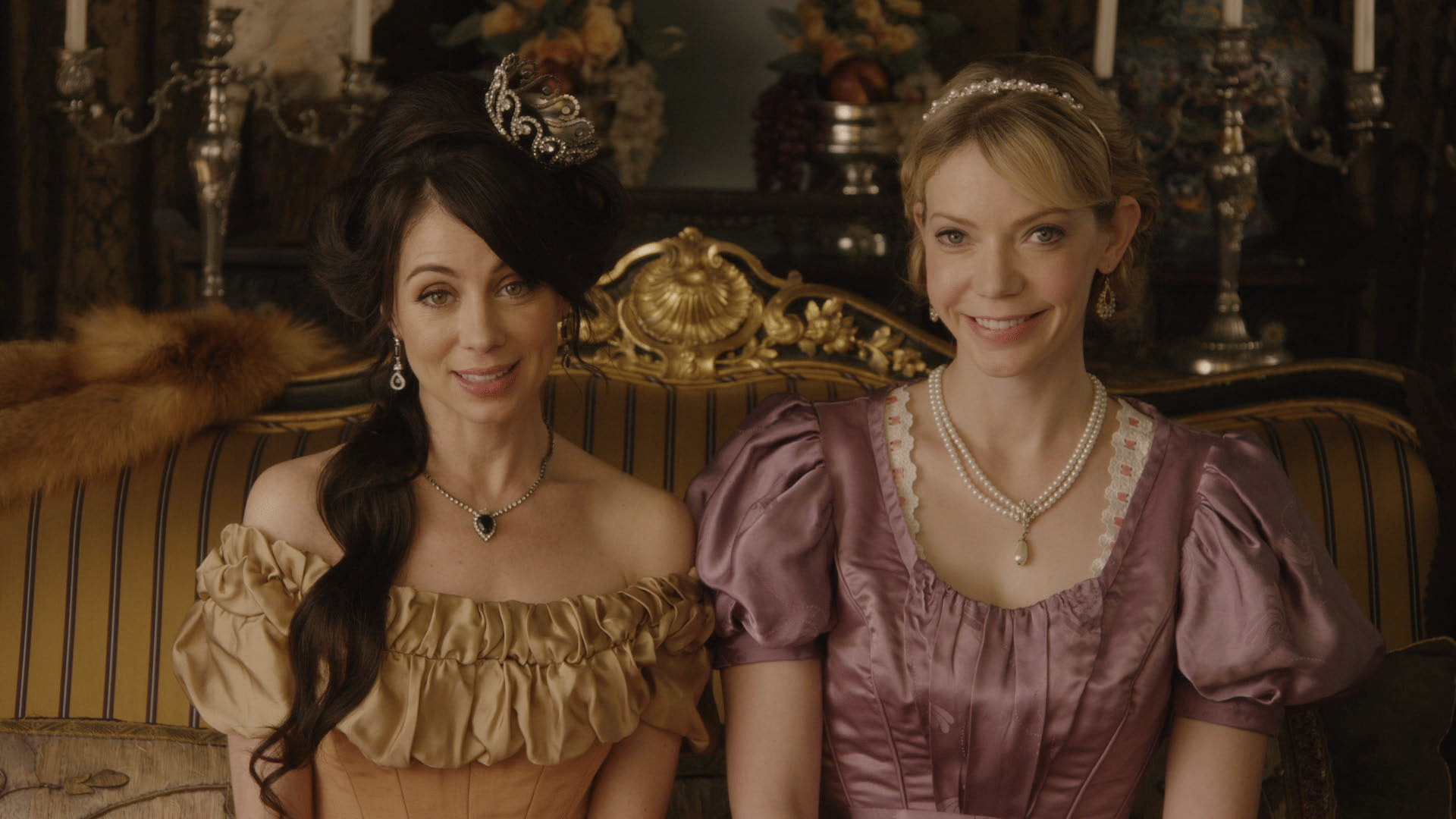 Set in Newport, RI, at the turn of the century, Comedy Central's new scripted comedy "Another Period" (premieres June 23) follows the superficial exploits of the obscenely rich Bellacourt family and the servants constantly degraded by them. It's part "Kardashians" and part "Downton Abbey"—with a whole lot of silliness and historical references in between. We spoke with the female creative duo behind the series, comedians Natasha Leggero and Riki Lindhome.
Regarding the historical figures you write into the show: What is their function, story-wise?
Leggero: I think it's really fun to see a version of what could happen or could have happened… Like in our pilot: [It's historically accurate that] Helen Keller was on a tour with Anne Sullivan, and they did want money from the rich families, so there is a world where it could have happened—and we try to make it like that as opposed to random and insane. It's definitely based in the possibilities that could have happened.
Lindhome: We had Mark Twain as a drunk, falling over and throwing up into plants. Just funnier versions of what could have been.
Did you always want to go to Comedy Central or did you try other networks?
Leggero: Comedy Central is just this great place right now. They're really letting people do what they want with minimal notes. And their notes are always on point. They've just been so great and collaborative to work with, and we heard that, since we've got a lot of friends in the comedy world who have shows. I feel like I have maybe 20 friends who have shows on Comedy Central… They were very much a part of the process of what this show is going to be and they wanted to have a say in all of that. That's the difference—I think Comedy Central is really trusting the comedians with their own vision.
Was there any improv during the writing process?
Lindhome: A little bit, but it was pretty scripted.
Leggero: But we did have some amazing improvisers who just happened to be great at improvising at the turn of the century.
Sounds challenging.
Leggero: It is, because you can't end sentences with "you know" and "um" and "like."
Lindhome: You have to be very deliberate.
So did you have to correct people when they'd go off the rails?
Leggero: Constantly. [Director] Jeremy [Konner] would say, "You're sounding a little modern."
There are more female comedy duos today. Do you think that it's a good time for women in comedy on TV?
Leggero: We've just entered the century of the woman. So, what, we're 15 years in, so I think we're on the right pace.
Do you think there's such a thing as female comedy?
Lindhome: I think it depends on the person.
Leggero: It's like, when people are overweight, and they're on stage they'll talk about being overweight, or people who have kids will talk about having kids. So if you're a woman, you talk about being a woman. But I don't think it's female comedy.
So funny is funny.
Leggero: Yeah, you don't think oh, a female painter.
Lindhome: This show I'd say is feminist, but it's not feminine. There are fight scenes and dick jokes and sex scenes.
Leggero: And I love period pieces, and I still think there have not been a lot of women in these historical period pieces. They're always centered around war and crime and what the men were doing. To me, I get bored of that. So it's like, what were the most eccentric women doing a hundred years ago? And what were the poor people doing a hundred years ago, and what was it like to be a woman—with no rights? Right now we're mad because we get paid slightly less… imagine if we weren't allowed to vote. They wouldn't even let women read. They thought that if upper class women read at a college level it would shrink their ovaries. These were rich people. So women have come so far. It's pretty crazy when you start researching it.
What's the attraction to period pieces?
Leggero: I always think that there's a decline happening… I've always felt it, with society… so it's fun to go back a hundred years. And also, we're some of the most unsophisticated people [in the show]. We're cultured, but we're terrible gross pigs in the show… but you know, we can do the Waltz.