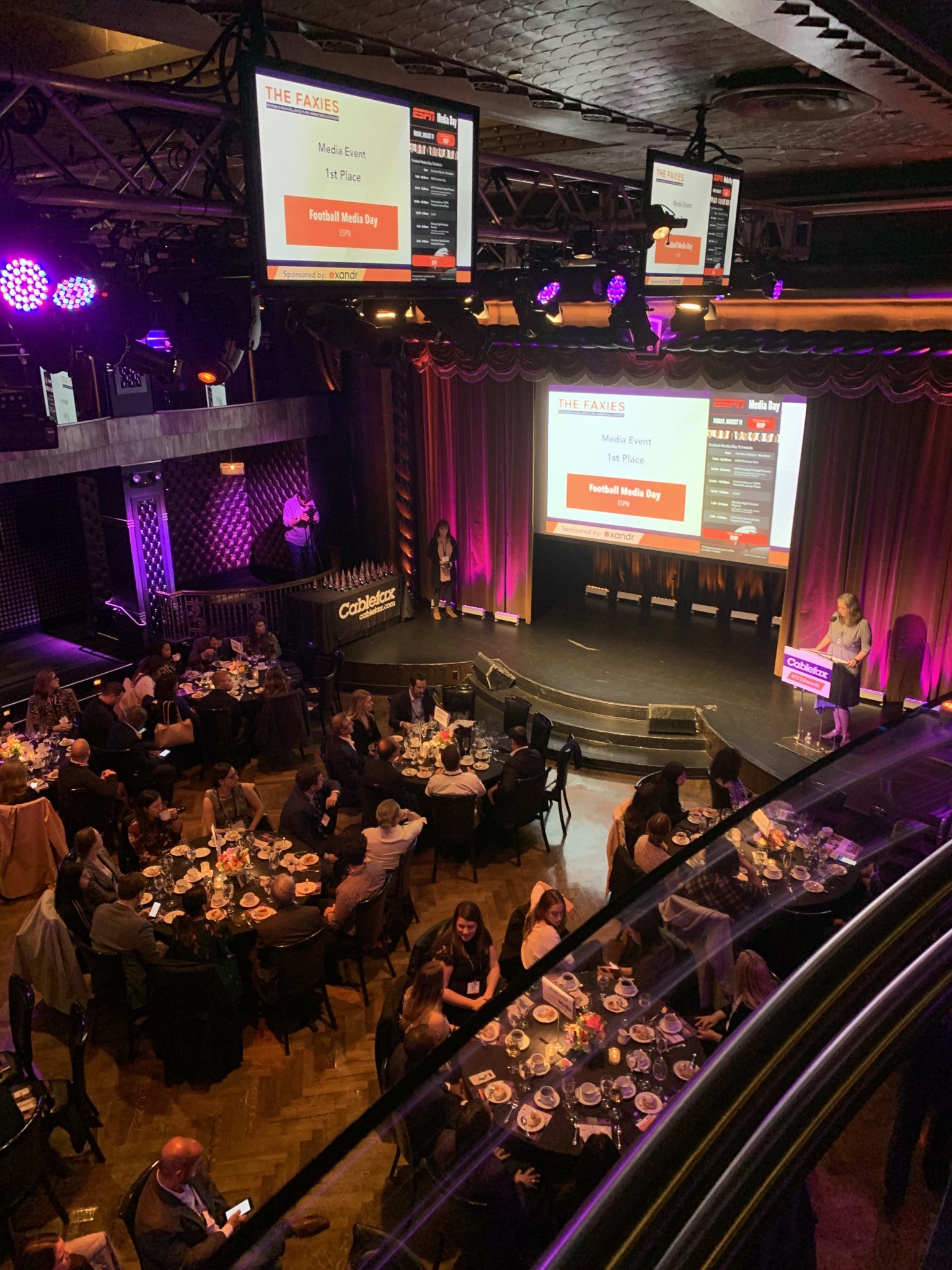 Congrats to all the winners and finalists at Cablefax's FAXIES luncheon Tuesday, honoring the best in PR, marketing and TV. Publisher Michael Grebb set the tone of the afternoon, launching the event with an original song about the Golden Age of TV, at least until "Netflix buys everyone."
Speeches were short and sweet, but Univision svp of corporate communications Bobby Amirshahi took his time congratulating PR Executive of the Year, Univision's evp and chief communications officer Rosemary Mercedes.
"She joined the company as its second ever communications person about 12 years ago, and to think through all of the regime changes and changes in our industry to really rise in the ranks and be the chief communications officer of this company, I think that says a lot," Amirshahi said, accepting the award on behalf of Mercedes, who was unfortunately attending a funeral. "We talk a lot about talent in our pipelines, people of color, women and to see Rosemary really make the dedication to stay there and to grow and be in the C-Suite reporting to the CEO, I think is an amazing success story for all of us."
AT&T's Xandr took home the award for Marketing Team of the Year, having launched just over a year ago after the company purchased AppNexus. Kirk McDonald, Xandr's chief business officer, accepted the award, quipping that his team was too shy to join. He spoke about how exciting it was for the team to launch this new venture for AT&T, which purchased Massachusetts-based Clypd last week.
Smithsonian Channel earned PR Team of the Year. "I'm a lucky lady to lead this team." Joanne Brahim, vp of communications, said while accepting. "We have a lot of fun together, which I think is very important, but we've covered everything from international to our linear to domestic programming, our OTT service, events, talent management, corporate communications, is there anything I'm missing there?" she joked. "We're just excited to see what 2020 brings the brand and our team."
Other honorees of the day included WWE, who brought home four awards: Digital Team of The Year, Best Use of Snapchat, Best Use of Instagram and best in Live Streaming for WWE Mixed Match Challenge. Crown Media Family Networks earned New Product/Launch, as well as category wins for Use of Twitter and Social Media Campaign, as finally was honored with the Social Media Dream Team of 2019 award. Altice USA was recognized for the Public Affairs Campaign award, thanks to its Women's History Month campaign that stretched across 10 states and 22 community organizations. Check out the complete list of Faxies winners here.