CableFAX Staffers Offer Up Emmy Predictions
Emmy Night is almost here. CableFAX editors Michael Grebb, Amy Maclean, Kaylee Hultgren, Joyce Wang and guest critic Seth Arenstein take a stab at a few predictions. An excerpted version ran in
CableFAX Daily
, but we thought you might enjoy the full conversation.
Best Drama Series
Mike: With all the buzz about its final season, AMC's "Breaking Bad" is simply top of mind and will edge out HBO's "Game of Thrones."
Amy: The 13 people in America who hadn't seen an episode of PBS' "Downton Abbey" tuned in last season and were hooked. Downton wins by a footman.
Joyce: Breaking Bad should and will win.
Seth: Anybody's guess; Breaking Bad or Game of Thrones should win, but Downton and "Cards" seem strong.
Kaylee: Has to be Game of Thrones. I shed a tear when Rob Stark of Winterfell perished in the Red Wedding.
Amy: You love spoilers, Kaylee…
Kaylee: One of my recently-unfriended Facebook friends spoiled it for me. I'm returning the favor.
Best Comedy Series
Seth: "Veep," "Girls" and "Louie" are great, but very niche. "Big Bang" wins. Again.
Kaylee: Girls. Season 2 added complexity to the suite of characters and addressed some of the criticism directed at creator Lena Dunham.
Mike: With Big Bang and Louie weighted down by awards these days, it could be a "Modern Family" kind of night.
Joyce: With its broad appeal, Modern Family will take the shiny prize.
Amy
: I don't like to laugh. Bazinga! Big Bang all the way.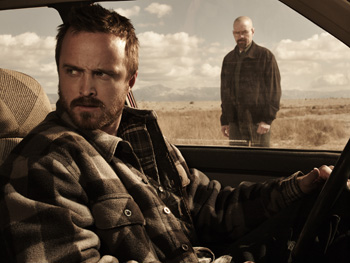 Bryan Cranston is nominated for best Lead Actor in a Drama
Lead Actor, Drama
Joyce: As much as I love Jon Hamm, I am placing my bet on Bryan Cranston. Can Damian Lewis split the win?
Seth: Every year I pull for Jon Hamm and cry afterward. Bryan Cranston or Kevin Spacey will get the nod. Jeff Daniels is a dark horse, but deserving.
Mike: Kevin Spacey's worthy—but it won't happen. With Breaking Bad ending, Bryan Cranston's Walter White remains kingpin.
Kaylee: Cranston. He continues to reinvigorate and redefine the character, season after season.
Amy: I'll sit in the corner by myself with "Homeland's" Damian Lewis.
Lead Actress, Drama
Joyce: Vera Farmiga all the way. Outstanding job in "Bates Motel," though compared to Claire Danes and Kerry Washington, she hasn't got as much buzz and momentum heading into the big night. A black horse.
Kaylee: Claire Danes as Carrie Mathison. No one does debilitating anxiety like Danes. I'm getting anxious just saying this.
Amy: Vera! Love Danes, but it's refreshing to see neurotic played with a healthy heap of compassion instead of crazy eyes.
Seth: I'll put my 'bates' on Vera Farmiga, but expect Connie Britton or Kerry Washington to win.
Mike: Would love to see Elisabeth Moss run away with it, but Connie Britton's song's too catchy.
Lead Actor, Comedy
Mike: Don Cheadle's the best thing about "House of Lies," but nostalgia for the cancelled "30 Rock" favors Alec Baldwin.
Seth: This seems all broadcast, with either Jim Parsons or Alec Baldwin.
Joyce: Agreed.
Amy: 30 Rock lost me two seasons ago. I'll go with Parsons.
Kaylee: Louis C.K. as Louie. He's basically an auteur, creating the show from top to bottom. He deserves a win.
Lead Actress, Comedy
Seth: Cable seems strong here. I'd pick CFAX friend Edie Falco, but feel Julia Louis-Dreyfus was great as egocentric VP Selina Meyer.
Mike: Agree with you there, Seth. But with 30 Rock over, Tina Fey gets the nod.
Kaylee: Amy Poehler as Leslie Knope. Poehler's character is truly fleshed out at this point in the series and her chemistry with the rest of the cast is simply awesome.
Amy: Always go with the Amy.
Joyce: Compared with lead actor, comedy, this is a real tough one. When in doubt, go with guts: Julia Louis-Dreyfus will win.
Outstanding Miniseries/Movie:
Amy: I don't think anyone can beat HBO's "Behind the Candelabra."
Mike: True, Candelabra remains the favorite—but "American Horror Story: Asylum" could pull an upset here.
Joyce: Each one deserves to win in this category, though American Horror Story has all the makings of a frontrunner.
Kaylee: Behind The Candelabra. 8 Creative Arts Emmys. Need it say more?
Seth: All cable and deservedly so. Horror Story was excellent, ditto "Lake," but Candelabra edges them.
Outstanding Actor in a Miniseries/Movie
Kaylee: Matt Damon as Scott Thorson. Beaded mankini. Need I say more?
Amy: Sorry, but Michael Douglas was Liberace.
Michael: It's a toss-up between those two.
Joyce: Yep.
Seth: Michael Douglas wins as Liberace, but Toby Jones as Hitchcock and Al Pacino as Phil Spector were tremendous, too. Glad Benedict Cumberbatch was nominated.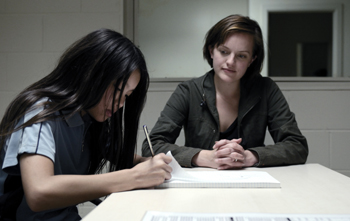 Elisabeth Moss could take the Outstanding Actress in a Miniseries honor

Outstanding Actress in a Miniseries/Movie
Seth: Elisabeth Moss should win, but Jessica Lange's creepy Sister Jude was memorable, too.
Michael: Laura Linney has a chance, but Jessica Lange will walk away with the statue.
Kaylee: Elisabeth Moss as Robin. A truly spectacular performance from Moss.
Amy: I'm with Kaylee.
Joyce: I agree with Seth on Jessica Lange. She was outstanding as the twisted Sister Jude. But Elisabeth Moss will win.