CableFAX 15-to-Watch—BJ Elias, Fox Cable Networks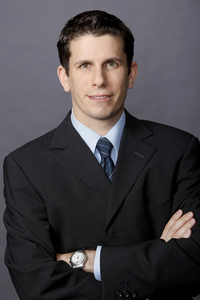 BJ Elias
Vice President, Advanced Services
Fox Networks, Distribution Sales & Marketing
Overseeing overall product management and negotiations with major traditional and non-traditional distributors, Elias gets his fair share of complexity and must cope with constantly shifting digital trade winds. He handles it all like a pro, managing all of Fox Networks' advanced services products, including TV Everywhere, VOD, mobile TV, iTV and 3D. Elias was instrumental in the development and launch of BTN2Go, an authenticated broadband product of Big Ten Network, and was a key player in the rollout of Fox Broadcasting's authenticated product via fox.com. He helped develop the business principles and was intimately involved in negotiating the charter distribution deals and their subsequent roll outs. Elias was also integral to the product development, launch and ultimate success of SPEED2's authenticated broadband play. The bottom line: We think this guy's going places. Fast.
What personal qualities do you think have helped you get to your current position—and which ones (that you either now possess or must work on) will advance you to the next level?
Hard work, dedication, perspective, curiosity, and a sense of humor are the personal qualities that got me to this point in my career and I believe will be the ones to get me to the next level.
What digital trend will be the biggest game changer in the next 1-3 years?
The growth of 4G networks, frictionless sharing, near-field communications, TV everywhere, cloud computing, and HTML5 along with faster low-power processors, more tablets and a generation willing to share everything will make mobile devices the center of people's digital lives and be the biggest digital game changer in the next few years.