CableFAX Diversity Profile—Discovery's Luis Silberwasser
Editor's Note:
In recognition and celebration of the diversity within the cable industry, we will be highlighting some of CableFAX's Most Influential Minorities and their responses to a series of questions on mentorship, job skills and diversity. For the
CableFAX Diversity issue in its entirety go here.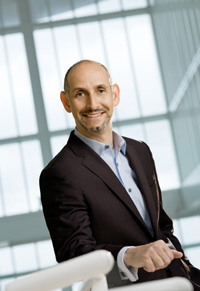 Luis Silberwasser
EVP/Chief Content Officer, Discovery Networks International
Discovery Communications
Tell us at least one true story of a mentor (or mentors) who gave you advice you still use to this day.
I have been very fortunate to work with some of the most inspiring leaders in the media and FMCG industries. The two most useful pieces of advice I received were 1) to constantly absorb knowledge and become an expert in whatever job you are undertaking at the moment; and 2) to look at your career as a journey in which every twist and turn has potential value, regardless of where it takes you. This knowledge has proven to be invaluable in my career development. Each opportunity that I've pursued has contributed to my skill set and served as a stepping-stone for where I am today. At Discovery alone, I've worked in marketing, affiliate sales, business development/strategy, and now programming—either in a region or for our corporate international division. Had I not kept an open mind to dabble and learn from all of these areas, I may not be where I am today. Ultimately, I've learned to be flexible and to adapt to various situations and to spend the time to build my skills and expertise.
What advice do you have for young people trying to break into the cable industry?
Don't be afraid to get your hands dirty!! College graduates should be as eager and flexible as possible when it comes to prospective jobs. The cable industry has a wealth of opportunities for the next generation of leaders. It's vital to stay on top of the industry trends and embrace social media and new digital vehicles—they're driving and shaping the future of this industry. Above all, watch and enjoy TV! Discovery has summer and spring internship programs in a variety of fields: programming, production, marketing, communications, and operations. Be sure to check out
www.careers.discovery.com
for more information.
Diversity is important to cable's bottom line because …
Life is diverse. No two individuals, situations, events are the same—and television has a great opportunity to highlight and embrace these differences. Discovery is all about satisfying curiosity, and we pride ourselves in creating brands and programs for people to experience different perspectives, cultures, and lifestyles and that may be different than they are. Recently, Discovery has taken a deeper look into the lives of diverse communities who may not be as well known, such as the Mormons, the Amish, and the Gypsies. We operate in more than 200 countries, which is reflected in our diverse labor force—needed to find and tell the stories we showcase in our global programming.