CableFAX 100 Profile – Viacom's Van Toffler
Ed Note: We'll be featuring profiles of executives named to the 2013 CableFAX 100 and their answers to a series of fun questions. Here's who we ranked as #38. Read the rest of the 2013 CableFAX 100 profiles here.
38 | COLOR ME IMPRESSED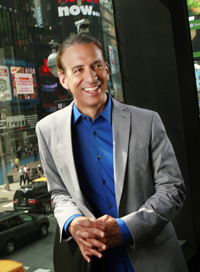 Van Toffler
Title: President, Viacom Music & Logo Group
Number of Years in Cable: Since 1986
Education: BA, George Washington University; JD, the University of Pennsylvania
Best Advice in 7 Words or Less: Take risks, fail, but win more.
Apple or Samsung? All of them. I have way too many devices.
Beatles or The Rolling Stones? Beatles and Mick Taylor-era Rolling Stones
The one thing I'd do differently if I could go back to high school: Pay attention.
On a Saturday afternoon, you can find me… hanging with my family or if I am in LA, I am usually at Amoeba Music buying records.
This is the hobby I've been itching to try, but haven't found time: Sleeping
My new year's resolution for 2014 will be… go to more live music shows and eat less sugary cereal.
My peers would be surprised to learn that I… still collect and own thousands of CDs.
Appetizer or dessert? After dinner drink count as dessert?
Film fest or music festival? Both
The other subject I wish I'd picked for my college major: Phys Ed
Favorite decade? 1970s —incredible music came out of that decade in folk, funk, jazz, rock.
Most embarrassing moment? Did anyone see the Super Bowl Half-Time Show with Janet Jackson?
I consider this person my mentor, and here's why: All of my failures so I don't repeat them.
Favorite airport? JFK because it means I am home.
The movie that should never be remade? Pootie Tang, why mess with perfection? (Full disclosure, I was one of the executive producers on that film).
The best piece of business advice I've gotten this year: It's a secret.
I watch the majority of programming on this device: I usually watch TV late at night with the volume down.
My favorite Cable Show memory: Our party where Moby performed to help launch MTV2 (in New Orleans).
Netflix or Hulu? Cable
Celebrity, sports figure or politician I'd most want to have dinner with? Paul Westerberg
Celebrity, sports figure or politician I'd most NOT want to have dinner with? Honey Boo Boo?
Who is on deck for the next celebrity meltdown? Hopefully not someone from one of our shows.
Cable exec I wish had done a Harlem Shake video? Charlie Ergen?
If I could tell my 21-year-old self something today, it would be… never stop believing you're 21.
The biggest lesson I learned from my kid(s) this year was… it's good to be a kid.
The day we get multiplatform measurement is the day I… retire.
Dish I can make and that would impress a celebrity chef: Coffee
I wish Congress would just… pass gun legislation
The TV show title that most resembles my life is…can't really pick one.
Favorite business and/or motivational book? Chelsea Handler's My Horizontal Life
Favorite vacation spot? Big Sur
The biggest innovation in cable over the last year: VOD measurement ?