CableFAX 100 Profile—Showtime's Matt Blank
Editor's Note: We'll be featuring profiles of executives honored in our 2012 CableFAX 100 issue. We asked each of them to answer a few light-hearted questions and we've shared their responses below. Here is what Showtime's Matt Blank had to share. He ranks at #17. Read the CableFAX 100 issue in its entirety here.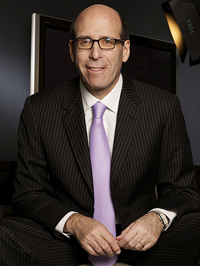 Matt Blank
Chairman/CEO
Showtime Networks Inc.
Early bird or night owl? Both
Gangnam style or Mozart? Gangnam style
Favorite fictional character? Jay Gatsby
The potato chip flavor that needs to be invented… Pork and Bean
I'd give up my cell phone for a week if… If I could get a call on my iPad.
The one thing I'd do differently if I could go back to high school… Read everything.
My famous last words will be: SHOWTIME free for 3 months!
When scientists from the future dig up a cable system from 2012, they will conclude that: "Homeland" was the best show on television.
My favorite restaurant: Maialino
Bands I would actually go see live: Bruce Springsteen, Rolling Stones, Bob Dylan.
If I invented my own app it would be… Pizza Now.