Cable Nets Want to Stop the Bullying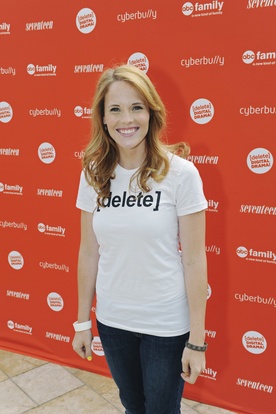 Katie Leclerc, at Seventeen magazine and ABC
Family's "Rally to Delete Digital Drama" in Glendale, CA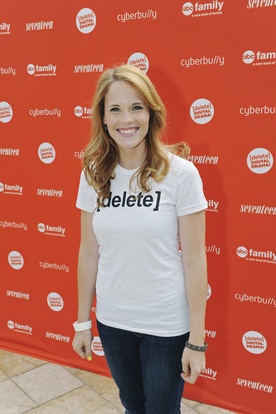 Katie Leclerc, star of the newly popular ABC Family series "Switched at Birth," felt powerless when she was bullied as a younger student. But that changed when "one boy spoke up… and in that moment I knew that I was going to be okay. I knew that someone had taken notice that this was a problem and addressed the problem," she said. Leclerc shared this personal story during the Federal Partners in Bullying Prevention Summit, a gathering of those who have noticed and are addressing the problem, on Sept 21 in D.C.
ABC Family stars, such as Leclerc, are speaking out against bullying in the "Delete Digital Drama" campaign in partnership with Seventeen magazine. Focused on online bullying, the campaign includes print coverage in Seventeen, a teen star-studded PSA airing on ABC Family, a "Delete Digital Drama" badge that can be added to Facebook and Twitter profile pictures, Charlotte Russe T-shirts and partnerships with Verizon and the non-profit Stomp Out Bullying. "The delete part is the power. It's not victimizing them. It says that there's something you can do about this drama in your life… You can delete it and stop it now before it becomes something that is really damaging and destructive," said Seventeen editor in chief Ann Shoket.
Tyler Blackburn, from ABC Family's "Pretty Little Liars," also experienced painful bullying when he was younger. "For me, I was always an artistic kid and that was one of the reasons I got picked on… And now it's my career so that's cool," he said. Blackburn realized the power his career has given him to communicate directly with teens when a Tweet he sent out asking "What's one idea of how to stop or aid in stopping bullying?" produced about 5,000 responses. "It blew my mind… This whole stance that I'm taking is new in my life. I'm just realizing the power I have to communicate with people who were once in my position and it makes me a little emotional honestly," said Blackburn.
The importance of bullying prevention was underlined at the Summit when Kevin Jacobsen shared the emotional story of his son Kameron's bullying and suicide. "My children don't think twice when they get into a car before buckling their seatbelt. I still need the reminder from the dashboard. Bullying needs a long-term philosophy, a change that enables every person to recognize bullying immediately in all of its forms and from all of its sources… Let's make 'end bullying' the seatbelt philosophy of the next generation," said Jacobsen.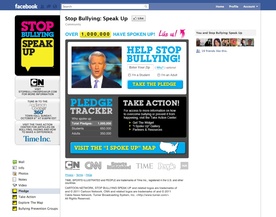 Cartoon Network and Facebook have created a
"Stop Bullying: Speak Up" social pledge app.
Cartoon Network and Facebook have partnered to work towards this change. Their Stop Bullying: Speak Up initiative aims "to educate and empower a generation of active bystanders," said Alice Cahn, vp social responsibility, Cartoon Network. The initiative includes anti-bullying coverage across Time Warner's screens and a Facebook social pledge app that allows students and adults to publicly commit to ending bullying.
As the first day of the summit drew to a close, participants enjoyed an evening reception sponsored by USA Network and their campaign Characters Unite. USA Network's Characters Unite community affairs program is dedicated to combating prejudice and promoting understanding and acceptance.