Cable Center Interns Speak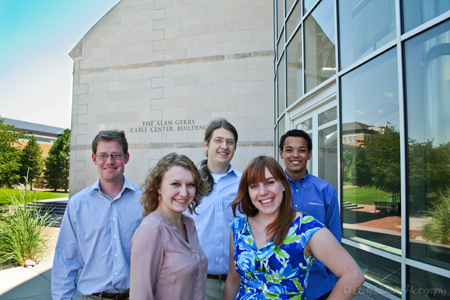 In its inaugural intern program this summer, the Cable Center welcomed six budding cablers to its facility to work on a variety of projects, including cataloguing digital media collections, video production and organizational management. We caught up with a few of the interns to see what they learned from the experience—and where you might see them in the industry down the road.
CableFAX: What first got you interested in the cable industry?
Patrick Kuhl: The overall history of it. I knew that if I was able to work in the Barco Library that I could use my Bachelor of Arts degree to help The Cable Center organize its materials and help make it easier for people to find what they are looking for.
Taylor Egner: One could say that my interest in cable has been lifelong, given that my mother has always worked in the industry. She got her start at HBO before I was born and now works for Starz, and it is through her that I have come to be so familiar with the cable industry.
Mackenzie Christman: I first became interested in cable because my mom works in the industry and always talks about the issues and the stories. It has always sounded very interesting to me. I am also interested in business, filmmaking and production and see a fit within the industry.
CableFAX: What was the greatest challenge you faced during your internship, and how did you overcome it?
Patrick Kuhl: My greatest challenge was going through one of the Pioneer's cable collections and sorting his material into specific folders. At first I was not sure whether I was doing the formatting correctly. Thanks to Brian Kenny's (Librarian, Barco Library) guidance, I found out that I was organizing the correct way and was able to finish organizing Robert Tarlton's personal collection.
Taylor Egner: The greatest challenge I faced during this internship was an intellectual one. Given the small size of the staff at the Center everyone has to wear many hats, so to speak, and it was a challenge for me to learn many new and diverse skills. Over the course of the program, I have developed skills as diverse as archives management, web development, video production/editing, and team management.
Mackenzie Christman: I had never worked in a library or as a receptionist before, and I received a lot of help and direction from everyone on the staff. They were all very supportive and very helpful.
CableFAX: What did you find most valuable about the program? Was there a lesson you learned that you'll take with you?
Taylor Egner: The most valuable aspect of the program was the opportunity to develop a wide range of new skills and to learn something every day. I should also say that in light of my lifelong history with the cable industry, it has been a matter of great interest for me over the course of this internship to learn about the great men and women who built it.
CableFAX: What's your ideal job in the cable industry?
Patrick Kuhl: The ideal job for me is providing detailed research material to people who are working on either a book, documentary or case study.
Taylor Egner: My ideal job in the cable industry would be a producer. I got a taste of the job when I was given the opportunity to lead the group of interns in development of a short historical video about the founding of the first cable systems and I really enjoyed being able to use my creativity and my technological understanding to create content and tell a story.