Cable Apprentice – You're Hired!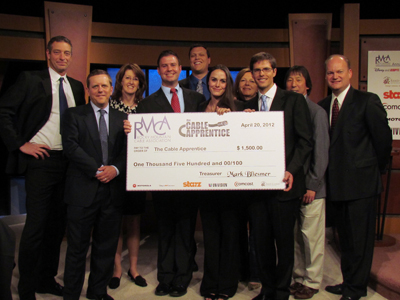 Three University of Denver graduate school students from the Daniels College of Business (Team "Cable Your Way") won RMCA's "Cable Apprentice" competition in 2012, hosted at the Comcast – Dry Creek facility in Littleton.
—
The Rocky Mountain Cable's Association's 7th "Cable Apprentice" competition is set to take place Friday, with students from Denver University Daniels College of Business competing for money and internships. But the benefits go beyond that, with RMCA vp Megan McCourt estimating that about 70% of students who participate going on to work in cable. She should know.
McCourt is a winner from the first Cable Apprentice Competition, back when it was part of the CTAM Rocky Mountain Chapter. RMCA has continued the program following the demise of CTAM chapters at the end of '11. McCourt has been a consultant with Sand Cherry Associates since starting her Apprentice internship in '07. In fact, Sand Cherry, a business strategy consultancy to cable, has hired someone from the winning team 4 of the 6 years. Starz, Charter and Comcast also have hired Apprentice winners.
"We wanted to establish in the Denver market close relationships with the academic community, identify top talent and motivate students for a career in cable," RMCA past pres Duane Dick, sr partner at Sand Cherry and a driving force behind the event's creation. "The cable industry on college campuses, Daniels specifically, is not very well known and not seen as very cool."
The case study competition features topics of immediate concern. This year's case is about the challenge of training frontline sales given the fast-paced changes to products, asking "How do we help our sales force learn forever?"About 30 students participated in speed interviews with cable execs in Feb. They were weeded down to 15 and then cut again to the final 3 teams (9 students, 3 per team). The teams have meetings with Comcast's sales force, get a Cable 101 download and practice runs with industry mentors. Fri is when they present it all, with the winning team receiving $3K (split among the 3 members) as well as paid internships in cable.
"It was the most real-life business experience I got in business school," said McCourt. "The students are really integrated consultants."
Dick said early conversations have begun about possibly bringing the Cable Apprentice competition to CTAM Europe. The competition was taken to CTAM West for 4 years, and there had been talk after CTAM closed the chapters of NAMIC of WICT resuming it, but it never happened.
Fri's big event takes place at 8:30am MT at the Comcast Dry Creek Facility in Littleton, CO. The events generally draw an audience of about 100. Dan Hillen from Sand Cherry is the moderator and Jeff Cox (Digital Globe Services), Jeff Pratt (Time Warner Cable) and Kris Workman (Comcast) are the judges of the competition. More info at
www.rockymountaincableassociation.com