Bravo's Top Chef Kitchen Lands in TriBeCa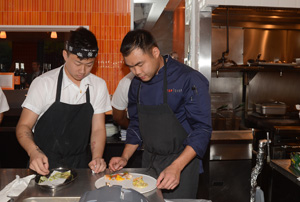 Paul Qui (right), winner of "Top Chef: Texas" season 9,
preps a 4-course dinner at Bravo's "Top Chef Kitchen"
If there's one thing Bravo is good at, it's brand extension. The latest opened to the public Tuesday evening. "Top Chef Kitchen" is a pop-up restaurant in Manhattan's TriBeCa neighborhood. Fans lucky enough to have landed a reservation (spots sold out in 45 minutes on opentable.com) have the opportunity to taste menus designed by past "Top Chef" contestants.
According to my table mate Ellen Stone, svp, Marketing, Bravo, the network is hoping to do a pop-up in another location. But it's too early to tell. One thing is a given: With just 4 weeks to make an impression, everything has to be perfect, she said. New restaurants are often forgiven for a brief period of ironing out the kinks, but a pop-up needs to get it right on the first try. And that they did.
The evening's spectacular menu was prepared by Paul Qui, winner of "Top Chef: Texas" season 9, and fan favorite of "Top Chef: DC," Tiffany Derry. Each chef created 4 courses along a chosen theme (
check out the menu here)
, but you could mix and match if you so desired (a mélange is not recommended by the chefs, of course. Paul prefers that his "deconstructed chicken soup" be experienced in its entirety.) After a week, 2 more chefs will create another 8 courses for guests.
In recent months, the "Top Chef" extensions have been building. The net announced "Top Chef: The Cruise," a 4-day culinary experience setting sail from Miami, FL, next April. It is hosted by Tom Colicchio and Gail Simmons and will feature past "chef'testants" engaging with fans in a series of cooking challenges, demos and other interactive events. Next up for the TV series is "Top Chef: Seattle," premiering November 7.
As for one Top Chef Kitchen, the experience goes beyond the food. Diners get to interact with the chef'testants, who make an effort to peruse the dining room floor and converse with guests. For the super fan: Cancellations may happen, so you can still check on opentable.com for last-minute openings, follow @bravotopchef for updates and take your chances as a walk-in. Still out of luck? Try the bar. They make a mean Padmarita.