Brandado: Marketing Analyses of Sharknado 2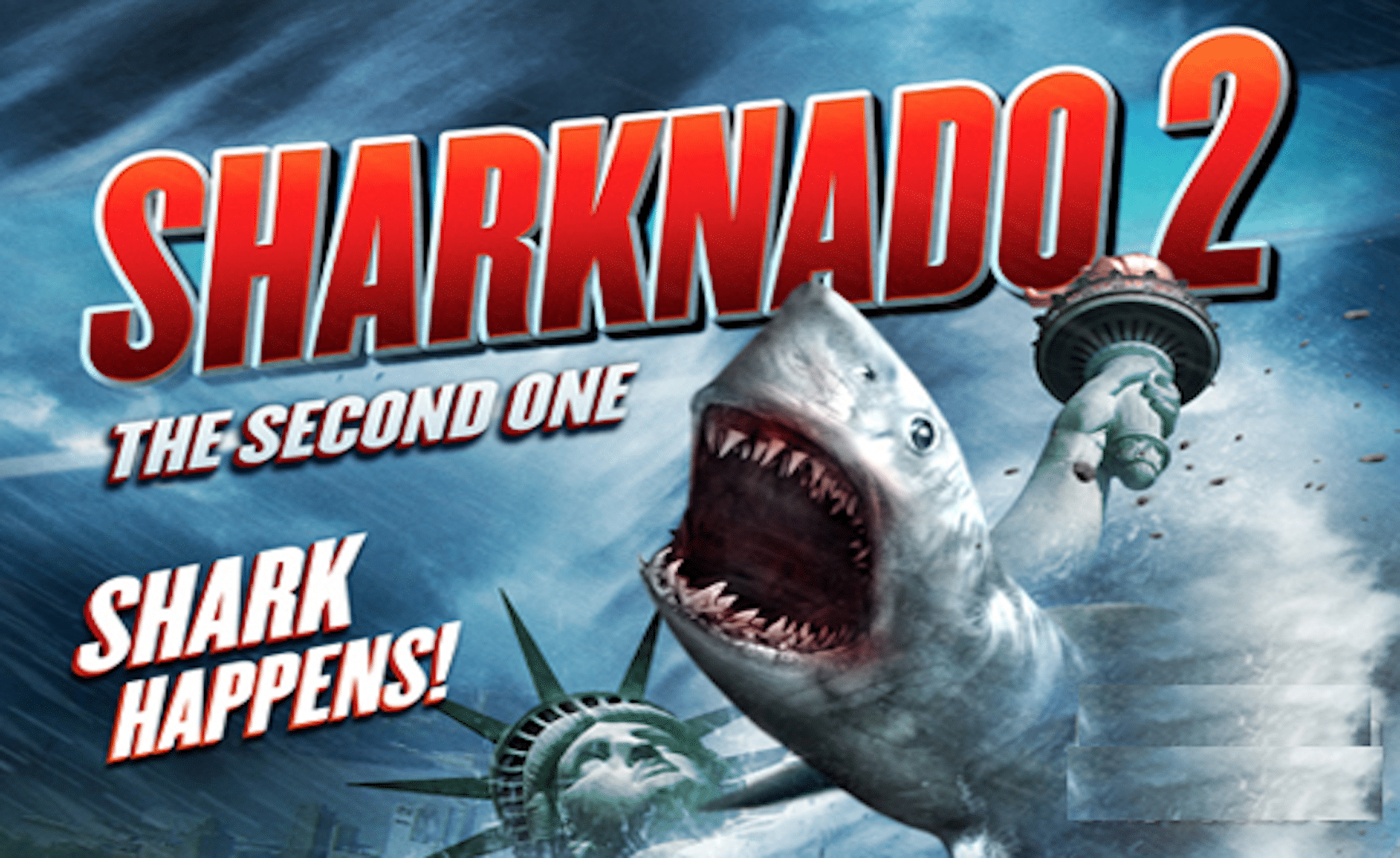 When "Sharknado 2: The Second One" premieres Wednesday, July 30, 9/8c, Syfy is banking on an amalgamation of bizarre plotlines, a resurfacing of '90s star talent and promotional strategies across multiple platforms to inspire millions more viewers to tune in. And Syfy's marketing strategies for Sharknado2 run in line with its killer plot. Michael Engleman, Syfy and Chiller's executive vp of marketing and global brand strategy, shared his promotional plan for getting cable subscribers caught in the Sharknado storm.
Last summer, Syfy reported that over 1.4 million viewers tuned in to Sharknado. Immediately after, fans posted and tweeted their Sharknado experiences, blowing up twitter and social media outlets. Happily surprised by the social engagement, Syfy responded by initiating a second and third viewing on VOD that brought an additional 1.9 and 2.1 million viewers, respectively. Engleman is relying heavily on a "hypersocial digital campaign" and cross-promotion to stimulate an even larger consumer stir for Sharknado 2.
Beyond utilizing Twitter and other social outlets, this time around Syfy has nurtured the publicity that real-life meteorologists—who've played with the potential of a real Sharknado–have created organically. "For the first Sharknado, a lot of brands drafted off the halo of this summer phenomenon. This year, with Sharknado2, we reached out to the people who organically drafted off it and forged partnerships with them," said Engleman. After securing a partnership with the Weather Channel, the jokes were taken one step further when anchors began offering advice on how to prepare yourself for a Sharknado. "The tone is the same; the amplification of how were communicating is much louder, much bigger," said Engleman.
Syfy's Sharknado Watch 2014 campaign strategy has functioned inside and outside of its NBCUniversal family. Fandango used its social and digital footprint and YouTube page to promote the official Sharknado 2 trailer, which attracted 1.2 million views in three days. Engleman greatly attributes the response to "the enthusiasm of Sharknado as a franchise, and the marketing muscle of Fandango and NBCUniversal business." Even Sprout, NBC's preschool network, is doing its own version of Sharknado week, calling it "SPROUTnado." They will be doing a morning stunt programming block on Syfy and promotion on their own network.
Engleman flexed the star power of actors Ian Zering, Tara Reid and the entire Sharknado cast for promotional momentum, through marketing to the generation that grew up watching Zering and Reid in the '90s. With Zering's "90210" roots and Reid's "American Pie" pedigree, he focused marketing efforts on creating nostalgia from the Gen X and Gen Y generations. "Sharknado 2 is an opportunity to see people with talent that the audience cares about in an environment that's absolutely wacky," said Engleman.
In addition to appearing for a Comic-Con panel, what Engleman called a "launchpad for big 4Q swings," the stars will co-host an after party on July 25. Zering and Reid are scheduled to appear on NBC's "Today Show" July 29 for interviews and live activations on the plaza.
The film's second installment is also supporting Syfy's mission to rebrand as an international network. In part, New York City was chosen as the film's setting because of its international appeal and prospect of "leveraging as a global phenomenon." According to Engleman, Sharknado 2 boasts a reach of 86 international countries that will play the program time-shifted and simulcast—something the evp is very excited about. "We give people the tools to have a social platform and let people engage as much or as little as they'd like to," he said. Engleman hopes that initiating an international premiere playing in real-time will create "a single social conversation."
With a robust campaign that spans the generational gamut from adult to teen to adolescent, one thing is for certain: Shark paraphernalia will peak during the last week of July. Engleman offered his number one tip for surviving a Sharknado: "Either teach yourself to operate a chainsaw or get really clever on Twitter."