Book Review – Latino Boom II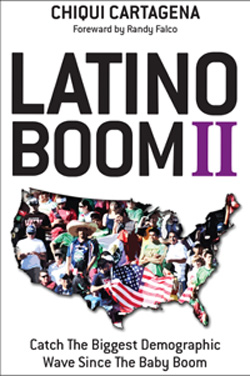 Latino Boom II – Catch the Biggest Demographic Wave since
the Baby Boom, Chiqui Cartagena. Foreword by Univision
President/CEO Randy Falco. 274 pages, Worthy Shorts.
—
For anyone trying to understand the Hispanic market, Chiqui Cartagena's new book, "
Latino Boom II: Catch the Biggest Demographic Wave Since The Baby Boom,
" is a good place to start. Sure, as VP of Corporate Marketing for Univision, her book can be a little self-serving at times. But it probably deserves to be, with Univision finishing as the fourth-place network in 1Q—beating out NBC for the first time. While her book definitely appeals to the brands who might advertise on the Spanish-language broadcaster, there is plenty of fodder for any marketer—perhaps especially for those competing with Univision.
This is Cartagena's follow-up to her 2005 Random House book "Latino Boom ! Everything You Need to Know to Grow Your Business in the U.S. Hispanic Market" and it's more than just an update on how Hispanic are redefining life in the U.S. In a chapter detailing the top 8 Hispanic DMAs, she promises an app that will provide up-to-date data as well as video interviews with top execs who are doing best-in-class Hispanic marketing. What Latino Boom II excels at is research, with Cartagena having obviously combed through hundreds of sources so you don't have to. And she puts forth some interesting findings. Latinos may make more cook-from-scratch meals at home than non-Hispanics, but Nielsen and other syndicated sources find that Hispanics tend to shop less often, but spend more per trip and are less likely to buy products at promotional prices (a nod to strong brand influence). U.S.-born Latinos are a huge part of the growth in the Hispanic population, with foreign-born Latinos accounting for only 37%. And speaking of population growth, IBISWorld stats found Hispanics accounted for 19.2% of purchases for children's and infant clothing in 2011 with a projected annualized growth rate of 4.5%.
Beyond the numbers, Cartagena delves into the differences between the terms "Hispanic" and "Latino" as well as acculturation (Hispanics, even the Millennials, are holding on to their culture and language) and a breakdown of Hispanics by region. She even tackles the rate of Hispanics going to college and what could be holding some back.
The book is stronger on data and research than concrete marketing suggestions, although they aren't completely lacking. One of Cartagena's tips for success is to make sure efforts are "driven by a solid business case, not by a drive for diversity among employees." Especially handy for marketers is a resource guide complete with Hispanic market publications, trade associations and Hispanic research companies (the author cautions people to use research companies that have proper Hispanic panels that are reflective of the population in terms of language usage, age, length of residency and representation in key Hispanic markets).
With the Latino culture influencing everything from the menu at McDonald's (Chipotle Chicken Wrap, anyone?) to Peter Parker's replacement in the new Ultimate Comics Spider-Man series, Cartagena argues that the Latino Effect is in full swing. Her book makes staying on top of the rapidly growing population a little easier.