Book Review – John Hendricks' 'A Curious Discovery'
Discovery Communications founder John Hendricks' new book explores what it is that makes someone an entrepreneur. While he has some good insights and suggestions for cultivating your inner entrepreneur, his entrepreneurial spirit can be summed up by his high school job choice. He left a retail job with a modest, but reliable paycheck to sell men's suits for commissions only. "My fate was my own. And I loved it," writes Hendricks.
That sort of risk embracing helps paint a picture of the man who created Discovery. In the early days, there were times when Hendricks' financial position was so precarious, you could develop ulcers just reading about it. While this book tells Discovery's story, it's more than that. With Discovery coming of age in the mid-1980s, it also delivers a history lesson on the cable industry—from the formation of early cable networks to the end of rate regulation for operators to the creation of digital networks. It's a who's who, with names like John Malone, Bob Miron, Walter Cronkite, John Sie, David Zaslav and other heavyweights sprinkled throughout. Oh, and of course, Ted Turner.
In fact, that's the nagging question as Hendricks works to get Discovery off the ground. If a documentary channel is such a good idea, why didn't Ted Turner do it first? Turner has often said over the years that he regrets the decision to sell to Time Warner. He's joked that his tombstone will read that he never owned a broadcast network. But, according to the book, he also regretted that Hendricks thought of a documentary channel before him—and he tried to rectify it by proposing a merger between CNN and Discovery.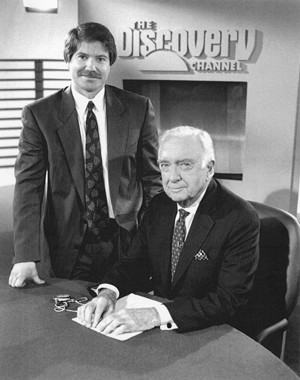 John Hendricks with Walter Cronkite
"A Curious Discovery" will undoubtedly hold a stronger appeal to those in the media industry. It's a great primer for someone new to the business and a fun look back for cable veterans. Hendricks' writing is entertaining (he was edited by his daughter Elizabeth Hendricks North, born the same year as Discovery) and personal, complete with stories of growing up during the Civil Rights era in Alabama. From an early age, he was curious, hence the book's title, and the creation of Discovery's "Curiosity" series. During his work study at the University of Alabama at Huntsville, he marveled at being able to bring home a film and film projector so that his parents could watch the Army-McCarthy hearings—they didn't have a TV in 1954 when they were broadcast live. Other people surely would like to see such films, he thought.
Reading about Hendricks' passion for reaching the estimated 25 percent of the population who wanted more science and educational content, you find yourself wondering what he thinks of Discovery Communications' evolution. While it has continued to rollout impressive docs such as the recent "North America," it also had ran series such as "Jon & Kate Plus 8" and less educational fare like "American Chopper." Eventually, Hendricks does address the issue, even dissecting individual programs such as the highly controversial "Lost Tomb of Jesus." I'll let the reader decide whether he does so adequately, but will leave you with this: Discovery, which had televised Mark Burnett's adventure race "Eco-Challenge," passed on Burnett's "Survivor" because it seemed a bit too contrived for the "the real-world brand we'd cultivated."
Overall, a quick and engaging read that should be on the bookshelves of cable execs and aspiring entrepreneurs.
A Curious Discovery: An Entrepreneur's Story
John Hendricks
Harper Collins
384 pages
Release: June 25