'Body Cam': A Different Lens into Policing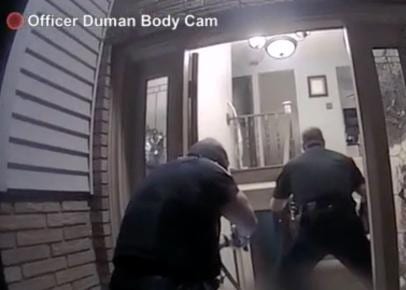 Sometimes it's easy to forget just what all police officers do in their line of work. When there's danger, they run toward it. Even if they are shot, the safety of others comes first, with it necessary to secure the area before EMTs can even arrive on the scene to administer help.
Investigation Discovery's latest "Body Cam" (Tuesdays, 10pm) puts the viewer right in the middle of the action via the officers' own body camera footage. It makes for dramatic TV—though the shaky camera and intense action may leave the viewer feeling a bit breathless (and queasy) at times.
It seems petty mentioning it when you watch just what these law enforcement officers go through. Body Cam's first-person POV combined with reflective interviews is worth being a little uncomfortable for.
Similarly, officers featured in the first ep said the body cameras themselves are worth it, even if they can get a little uncomfortable (ahem, they record everything—from a trip to the bathroom to that phone call with your spouse).
"I think body cams are fantastic. It tells the story of most of what we see. It doesn't tell what happened behind me, but it does tell everything in front of me. It tells the truth," Sgt. David White (Ret.) Uniontown, PD (Ohio) said during a recent DC screening of the series. "It makes everyone accountable, whether it's the citizens or the police."
The cams also make for fantastic storytelling. The idea was born out of a discussion on how to tell stories through a different lens, said Thomas Cutler, sr exec producer for ID.
"We spent a lot of time finding footage… and then backing out of it and finding how can we make this personal, how can we make this human," he said.
Those direct interviews are what set Body Cam apart from the jerky footage you see on the nightly news. It's as close to a police ride along as many of us are going to get.