Best Actor, Comedy—'Portlandia's' Fred Armisen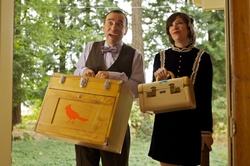 Best Actor/Actress/Host – Comedy
Fred Armisen, Portlandia
We thought it might be difficult for Armisen to impress us beyond his "Saturday Night Live" sketches—notably his brilliant impression of former NY Governor
David Patterson. But happily surprised we were. "Portlandia" depicts the hopelessly idealistic city of Portland, Oregon, as a place "where the '90s still exist" and "where young people go to retire." Armisen and co-star Carrie Brownstein (both co-write the series) play a collection of Portland-bred archetypes, including a proprietor of a female-owned bookstore (perhaps his best character), an extreme locavore and an ear-gauged, fixedgear toting nonconformist—who insists on declaring trends "SO OVER" the minute he spots someone other than himself exhibiting them. Based on fact? We're not sure. But we don't think it matters much—Armisen's talent is more than enough to please. [Check out a Q&A we did with Armisen,
here
.]
Honorable Mentions
• Iris Bahr – Svetlana, HDNet
• Kathy Griffin – Kathy Griffin: 50 and Not Pregnant, Bravo
• Joel McHale – The Soup, E! Entertainment Television
VIDEO EXCLUSIVE: Check out a video clip of the 2011 CableFAX Program and Top Awards, featuring interviews with Program Hall of Famers.