An Interview with USA's 'Graceland' Star Daniel Sunjata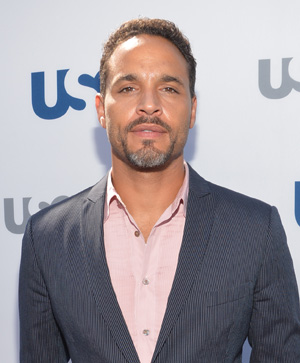 Daniel Sunjata, star of USA Network's "Graceland"
You may know him from FX's "Rescue Me," NBC's "Smash" or ABC's "Grey's Anatomy." But this summer Daniel Sunjata plays legendary FBI agent Paul Briggs in USA Network's upcoming summer scripted drama "Graceland" (premieres June 6). His character is charged with mentoring rookie agent Mike Warren, who dives headfirst into undercover work while living with other agents under a single roof they call Graceland. At a pre-upfront press event for the show, critics caught up with Sunjata to discuss his character's evolution—which the cast assured takes a rather dark turn—and the really important stuff. Like surfing.
The show is a little darker than other USA shows. Did you think about that while filming?
We were cognizant of the fact that it was darker than their usual fare, but at the same time there's humor, and it still has that kind of look that people associate with USA—kind of glossy, but it's edgy at the same time. I still think it's distinctly recognizable as how USA had branded themselves. But I think at the same time, they're trying to attract a new audience—a younger, edgier demographic. I do believe—fingers crossed—that "Graceland" will go a long way towards helping them do that.
How does your character change throughout the course of the show?
Well, without giving anything away, he just gets more and more complicated. You think in the first episode, that's who this guy is—and it's not just Briggs, by the way. All the characters, you start off with a certain perception of them, and then that just kind of dovetails and turns into other things. So nothing is exactly as it seems. The house itself is supposed to be a sanctuary, a place where we can be ourselves. We live lies for a living outside the walls of Graceland and so presumably when we're there, we should be able to be ourselves around each other. Because not even the guy that you get coffee from in the morning, or where you get your tacos on Friday night, they've all got to think that you're a school teacher, that you work for the Post Office—anything but that you're an undercover narc for FBI, the DEA or Customs. But, what you find out over the course of the season is that even within the walls of the house, which is supposed to be the land of grace, there are secrets.
In the pilot episode, the gang takes rookie agent Mike Warren surfing. Did you enjoy filming that?
It's Mike Warren's first exposure to life in the house. So one of the things we do is we surf. We were shooting the scene out of Santa Monica pier. We had camera crews on jet skis making sure none of us drowned. They're watching us from up on the pier. And so the scene is, laying on our boards, we paddle into frame—kind of like in a triangle. We talk, exchange dialogue, and then I paddle out of frame. We're out there for quite a while and the swells are big. This is right after lunch, and I had Shrimp Scampi or something, and it didn't register that you probably shouldn't be swimming for long periods of time after having lunch.
With each successive take I felt it coming… my mouth started sweating, and I was like, this is not going to be good. I just hope it doesn't happen before I get back to shore. Unfortunately, literally at the end of one take, I paddle out of frame and … Shrimp Scampi chumming the water. And by the way, I don't like swimming in the ocean, to tell you the truth. My dad took me to see Jaws when I was like 7 years old and I was like, sharks! And there's great whites off the coast of California, so literally, I thought I just chummed the water. [I thought] there's probably a shark swimming around me right now. So not only did I throw up, but I thought I was going to die afterwards. Not very Briggs-ian.