An Interview With TV One Chairman Liggins on 'News One Now'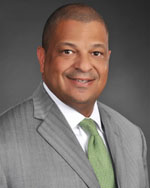 Alfred Liggins,
TV One Chairman/
President, Radio One
Today TV One announced that it plans to launch a daily, morning news show hosted by journalist and former CNN anchor Roland Martin. "News One Now" will bow in September of this year and feature analysis of politics, culture and sports from an African American perspective. A three-hour radio program will be syndicated on Radio One stations, and the third hour of it will air on linear TV. We caught up with Alfred Liggins, chairman of TV One and CEO and president of Radio One, to chat more about the show.
Given that News One Now is a morning, daily news show, how will it be different from Roland Martin's "Washington Watch?" Was he always the obvious choice as host?
As a daily show with a broad scope, News One Now affords us time to cover a greater number stories as they develop, allowing us to dive deeper into a given issue, keeping our audience better informed and up-to-date. In contrast, Washington Watch had a primarily political focus and weekly format.
Roland is an accomplished and passionate journalist who has been a stalwart component of TV One's news strategy from the beginning. His attention to the African American community and respect he commands in the news industry makes him logical choice.
Considering that African Americans are very active on social media, do you plan to take viewer interaction with social media to the next level? What will you do more, compared to, say, CNN, which is not specifically targeted at African-Americans?
News One Now will be a three-screen experience across television, computers, and mobile devices delivering news and information designed to be easy to access, easy to share and easy to interact with across a wide range of social media platforms.
African Americans are highly engaged in cable news. News One Now plans to leverage that interest with a program that utilizes Radio One, TV One and NewsOne.com to deliver news that's easily digestible, relevant to their daily life experiences and informative.
Did you do research to see whether a daily, morning news show was an opportunity for the network? How will you break through the clutter?
Yes, there was a lot of evaluation done on the morning news landscape and we're comfortable that our purity of purpose and consistent execution will attract the audience needed to sustain us. There is a lot of competition with morning shows, and we will break through the clutter by delivering a broad scope news program that's committed to excellent journalism, while delivering entertaining discourse from a variety of engaging guests you wouldn't get to hear from anywhere else.
Follow Kaylee Hultgren on Twitter at @KDHultgren