An Apocalyptic Chat with Gale Anne Hurd of 'The Walking Dead'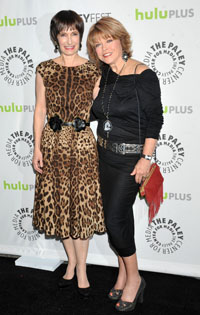 Gale Anne Hurd, executive producer,
"The Walking Dead" and Paley Center
for Media pres & CEO, Pat Mitchell
Gale Anne Hurd, one of the top producers in Hollywood and the ex-wife of AAA-list director James Cameron, knows a thing or two about apocalyptic scenarios. With producing credits on three of the "Terminator" movies and "Armageddon," not to mention the volcanoes-will-kill-us-all thriller "Dante's Peak," she's now lending her talents to AMC mega-hit "The Walking Dead." We caught up with her recently to get her quick take on why people just seem to love the end of the world.
CableFAX: So you're basically the Apocalypse expert at this point, right?
GAH: That's right.
CableFAX: What is it about apocalyptic scenarios that so intrigues people?
GAH: What you can do in an apocalyptic setting is take ordinary people and put them in not only extraordinary circumstances, but the highest life or death circumstances. And I think that's what works about "The Walking Dead." Not all apocalyptic stories put everyone in that kind of jeopardy.
CableFAX: What about after the thrill of the apocalypse is gone? Where do you take the show creatively at that point?
GAH:
Well, the good news is that we have a hundred and some odd issues of the comic to follow—not to do panel-for-panel representations but to be inspired by it. So there are many, many twisted and shocking stories that we're going to be telling.
ED NOTE: The cast and producers also offered up some tips on how to brave an apocalypse. How would YOU fend off zombies in an end-of-the-world scenario?