AMC Turns to D.C. for Spy Drama Premiere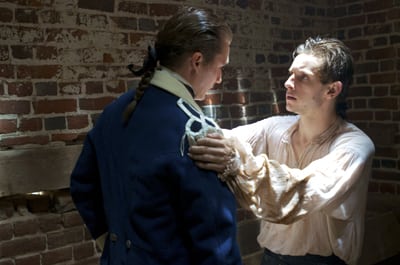 AMC's "Turn," starring Jamie Bell, premieres April 6 at 9pm.
It doesn't seem right that everyone's heard of Benedict Arnold, but few know about the Culper Ring, a spy cell under George Washington and the subject of AMC's newest series, "Turn" (premieres April 6 at 9pm).
"If you're a really great spy, no one knows your name. If you become a famous spy, then yes, you've done something wrong," said showrunner Craig Silverstein. The members of this spy organization took their secrets to their graves, and received little attention until Alexander Rose's nonfiction book "Washington Spies," on which the series is based. Now, the ring is about to become a lot more famous.
On Monday night, AMC held a Washington, D.C., premiere for the series with a Q&A after with Rose, Silverstein, former CIA director Gen. Michael Hayden, Turn star Jamie Bell (Billy Elliot all grown up!) and executive producer Barry Josephson. It marked the network's first premiere in D.C., a good match given the city's obsession with spies. Union Station has been blanketed in posters for the premiere for weeks. Washington is also a short hop from Williamsburg, VA, where the series is filmed.
Take a look at the hit TV series of today: "The Blacklist." "Homeland." "The Americans." It's clear Washingtonians aren't the only ones obsessed with spies. What sets Turn apart is that it isn't high tech, quite the opposite with it taking place during the 1700s. That's a bit of a risk and a big departure from "The Walking Dead" (though its war setting does give you some of the blood and gore) and "Mad Men." But based on the first episode, the storytelling AMC fans have come to expect is there. "It's a different kind of suspense," Silverstein said. The pace is a bit slower, but that's not a bad thing.
Former CIA director Hayden described himself as a fan, and yes, his background played a part in that. "The American public has an uneasy relationship with its espionage agencies. It shifts back and forth," he said, without directly bringing up the NSA controversy. "What this shows is that espionage is as old as the Republic. American espionage is baseball and apple pie. It goes back to our roots."
English actor Bell, who stars as Abraham Woodhull, a farmer recruited into the spy ring, joked that he couldn't do much research for the part. "They don't teach this in England. They don't want to remember that part," he said.
Rose, who was born in America but raised in Australia and Britain, said the most surprising thing he learned when working on the book was just how good Washington was as a spy master. "He enjoyed spying the bloody, daylights out of the British. He wasn't just one dollar bill George."
The premiere was set in the fitting venue of the National Archives, with partygoers downing cocktails just a short distance from the Constitution and Declaration of Independence. Members of the cast and AMC execs, including network president Charlie Collier, were on hand, as were politicians and staff. No details on whether there were any spies in the house, but it is Washington…