AMC's 'The Walking Dead' Goes Back to School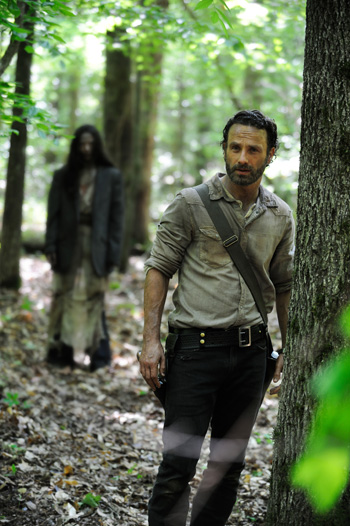 If you're into zombies (I mean, who isn't?) and studying pop culture, you're in luck. Last week AMC, Instructure and the University of California, Irvine, announced a partnership to create a free, interdisciplinary course online taught through the lens of AMC's "The Walking Dead." While zombies aren't real, academic disciplines like public health, physics and math certainly are. And this appears to be a fun way of learning about them.
The course starts Oct 14, the day after the show's season 4 premiere, and runs for eight consecutive Mondays via Instructure's MOOC platform, Canvas Network. To get a feel for the initiative and what's offered we spoke with Melissa Loble, associate dean of distance learning for UC Irvine and course lecturer Sarah Eichhorn, assistant vice chair for undergraduate studies in mathematics.
How did the partnership come about?
Melissa Loble: A technology company called Instructure, that works with canvas.net, came up with the idea of doing a course aligned with a TV show. So they reached out to AMC and said, would you be interested in doing this for The Walking Dead? There were a lot of Dead fans at the company and thought it had good, rich academic topics. AMC was really stoked about it. They thought it would be a great chance for them to deepen their audience and even broaden their audience perhaps. And then they reached out to us to see if we wanted to teach it. We've had faculty in all sorts of courses use various types of pop culture and other things in our teaching. Everyone teaching in this course actually teaches normal undergraduate campus courses, online courses and they teach some of these free courses as well.
Talk about the curriculum of the course.
Sarah Eichhorn: The course is actually very interdisciplinary. There are four instructors and we represent a variety of disciplines, including math, physics, public health and social science. The curriculum is very much tied to six themes from the show, about structuring society, survival, disease spreading, etc. Each of the four of us present… We have eight weeks of material and each week there's a topic based on one of the themes from the show and each [addresses] topics from a variety of our disciplines. [I do math…] so In my section of the course we talk about population dynamics and how we can use mathematics to study the spread of diseases.
What kind of prep do they have to do? I imagine there's a reading list, too.
Eichhorn: Each week the course will include some short lecture videos and also some reading assignments (no required textbooks) and discussion forum talks, where they'll respond to a question prompted by the instructor for discussion and then there'll also be a short quiz. Also, [there will be] extra content from the show. There'll be some clips from seasons 1 through 3 of the show and interviews where the instructor posed questions to the cast members relating to the weekly topic.
Is it required to watch the show? What if students don't have cable?
Eichhorn: It's not required that they watch the show. We expect many of them will be fans of the show and will be watching on a weekly basis, but that won't be required for participation in the class. Most of the content is very academic and we just use the Walking Dead show as an example, as a case study for most of the topics.
Who will be the guest lecturers?
Loble: There will be actor interviews—recorded, video interviews. And then we'll have other guest lecturers in a couple of other disciplines, but they'll all be specialists or faculty in the field. We'll have exclusive content. As Sarah mentioned, we have the ability to ask the actors some questions about their characters and about how that relates to the academic topics that'll be discussed. And that'll be exclusive footage only found in the course.
How will you avoid spoilers?
Loble: We don't get to see season 4 ahead of time. So we'll be watching right along with the students. In that case, we won't really have spoilers in our prepared academic lesson. Now in the discussion we will be talking about season 4, so Instructure has created the opportunity to label discussion posts with a spoiler alert label. So that prevents people from reading something that's they may not want to know yet.
There is so much pop culture content about zombies and the Apocalypse out there right now. Have you ever taught a course through that lens before?
Eichhorn: I have taught disease modeling before, and I actually used zombies as an example because it has a unique disease dynamic that you don't normally find. It's kind of a fun, popular way to get students' attention. I actually run a high school outreach program and one of the examples I always use is populations of zombies, werewolves and vampires interacting, and how that hypothetical situation might play out—and coming up with equations for all of that.
Is there anything out there about zombies that you think does a decent job of portraying infectious disease?
Eichhorn: Definitely. There's a Canadian mathematician named Robert Smith? (He actually has a question mark at the end of his name.) And he's done a lot of modeling of zombie populations and coming up with mathematic models for that. He even has an article published in the Canadian Mathematical Association Journal. This is something that mathematicians have looked at before as kind of a fun example but also a way to [look at] an interesting dynamic.
Are you passionate about teaching these kinds of free courses online?
Eichhorn: I'm very excited about teaching this class. I think it's a phenomenal opportunity to reach out to a wide audience and share some topics that I'm really excited about and find interesting and share it with a wider audience that might not normally choose to take a math course.
Loble: UCI has been committed to open and free education for a long time. We're very passionate about it. We want to have the opportunity to help educate the broader community if we can. So it's definitely part of our mission and we've been doing it for quite a while now. No one is getting paid to do this. There's no money changing hands. Everyone is collectively bringing [together] their resources. It's kind of cool that we're all coming together to do this experience in a very pro bono way.
Will you do more TV shows in the future?
Loble: We would love to. We don't have any queued up yet but we'd love to see how this works, and if it goes well, definitely.