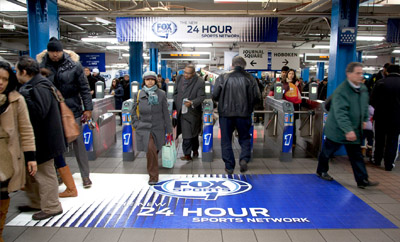 Fox Sports 1's takeover of the 33 St. Path station in NYC
—
The Super Bowl is technically in New Jersey. But you wouldn't know it if you found yourself in center of Manhattan this week. Networks have gone out of their way to engage Super Bowl fans, both on the air and on the ground.
Most of the action is centered around "Super Bowl Boulevard" in Times Square. The set up is hard to miss—particularly the 60-foot-tall toboggan run. At last, a centralized sledding location for New Yorkers! There are also opportunities in the 'hood to get autographs from NFL players, check out Macy's football-themed storefront and, for the families, kids games at the NFL Play 60 Field. Check out a map of the festivities
here.
There's also a Puppy Bowl exhibit (check out the slideshow at CableFAX.com) nearby at Discover Times Square celebrating the big event, which kicks off on Sunday at 3pm.
Fox is getting involved with a takeover of the 33rd St. Path Station, wrapped double decker tour buses and a massive billboard in the heart of Times Square. Additionally, FS1 is partnering with bars in NYC, NJ and the two Super Bowl teams' cities. Signage, prizes and brand ambassadors have populated 80 bars throughout those areas. And ESPN is doing its part by headquartering shows out of the midtown locations of Herald Square, Times Square and Bryant Park this week—115 hours total. Fans can be part of the shows as well.
Both Nickelodeon and CNN will be covering the action on the streets of New York. CNN and Bleacher Report shows will air from the Boulevard, including "Unguarded with Rachel Nichols" and an hour-long Bleacher Report special. Meanwhile, Nickelodeon has dispatched its superhero "Pick Boy" to report on location.
Then there's Time Warner Cable Studios, a six-day pop-up entertainment event in Manhattan's Meatpacking district. Networks like HBO, Starz, HLN, ESPN and beIN Sports have set up shop and entertained fans with green screens, Game of Thrones props and even a soccer experience with Italian legend Christian Vieri. (Not football-themed, but close to this editor's heart.) During the evenings, concerts with big names like Kings of Leon and Drake are taking place. Though it's fully booked now, Time Warner Cable customers received email invitations to sign up for free tickets beforehand.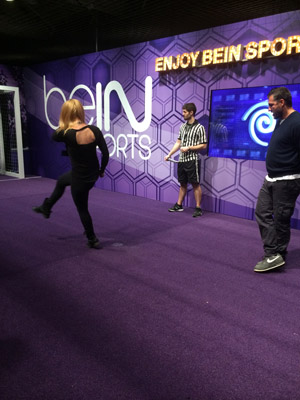 I stopped by beIN Sport to take penalty kicks
with Italian soccer legend Christian Vieri.
So who says you have to freeze in New Jersey to enjoy the Super Bowl? I'd rather grab a pint at a pub, practice my penalty kicks and cruise down a 280-foot-long slide (in that order).
See you at the Boulevard.