"Adam Ruins Everything," Even Mt. Rushmore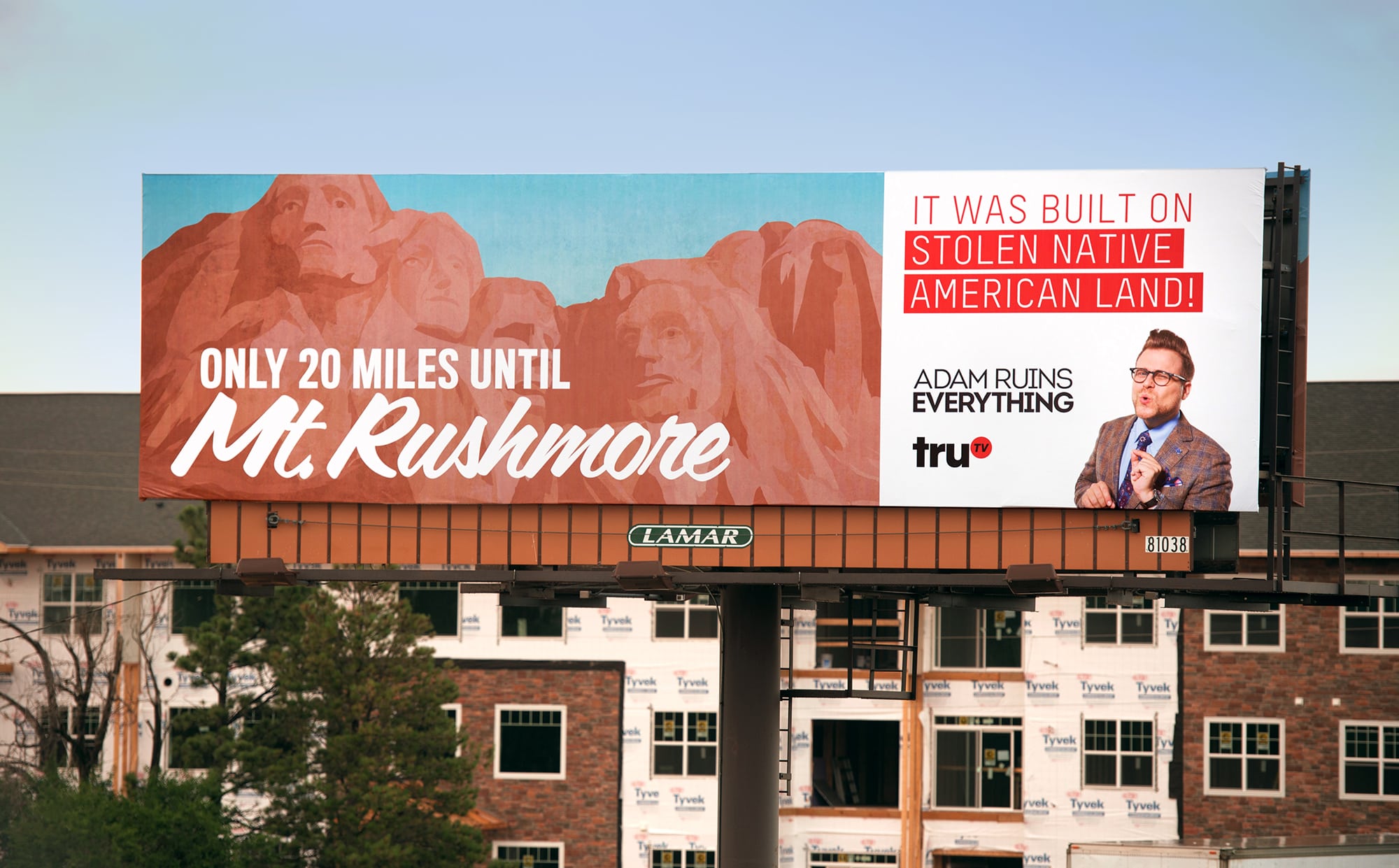 Host and comedian Adam Conover is known for tackling everything from voting to student loans on truTV's "Adam Ruins Everything," challenging what audiences think they know about some of the world's biggest institutions and ideas with his unique comedic spin. But no one would expect to see his face at one of the nation's most well-known landmarks.
For the show's Season 2 marketing campaign, the network created "contextual ruins" by placing Conover's buzz-killing facts near the targets of his bits. Two particular arms of the campaign sparked major buzz: billboards placed around Mt. Rushmore—with facts like "It's actually unfinished, but who cares!" and "It was built on stolen Native American land!"—and a digital roadblock on women's site SheKnows.com challenging the stigma about bottle-feeding children.
According to Puja Vohra, evp of marketing and digital for truTV, the idea for the campaign centered around one question.
"How do you take something that Adam is talking about in the show and bring it to life in a way that is factual and yet comedic?" Vohra said. "We want to keep this balance of comedic humor and yet deliver a piece of information that you can take forward, share or use to come back to the show."
The network started by looking at the ruins planned for the upcoming season as well as the winners from the past to find which would work for the "perfect marriage" between location and comedy. They then collaborated with Conover on every piece of copy to ensure his message was properly conveyed to audiences that hadn't previously seen the show.
A key aspect of perfecting the delivery of Conover's messages is the sourcing the funny facts. This allowed truTV to embark on the gutsy marketing campaign with less fear about backlash or misunderstanding.
"There are sources for everything," Vohra explained. "It's not conjecture, it's not opinion."
The citations allow the ruins to thrive in the marketing campaign and go beyond the show, transforming ruining into something that could be seen as "enlightening" and as a "good thing," no matter what tourist destination or idea they could be tackling.
"It's up to you what you want to do with it, but at least now you are armed with information and you make the best decision for yourself," Vohra said.
You can catch the current season of "Adam Ruins Everything" Tuesdays at 10pm on truTV.