A Snowy Super Bowl? Big Weather, Don't Care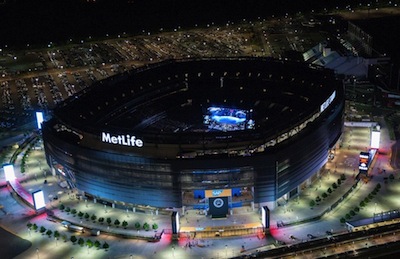 Tri-State area residents bemoaning the wintry climes they willingly inhabit is typical. It comes with the territory. But now that the Broncos and Seahawks have touched down into the Polar Vortex, the chatter surrounding the exceptionally frigid weather has peaked. Everyone's worried about how it will influence the big game on Sunday. Except for the network that's broadcasting it.
In a Fox Sports conference call last week president, COO and executive producer Eric Shanks said the weather is "just another thing that you prepare for, and that's what we're going to do." In fact, all the talk of bad weather could actually result in more tune-in. "I couldn't say how much or what, but this is probably the biggest Super Bowl in the modern era to have this much discussion about something in addition to the game and the players. It's going to have to manifest itself into more people tuning in," he said.
And why not use it to your advantage? Predicting that wind specifically could become a "major factor" in the game, Shanks said Fox is working with those who created the wind forecasting and graphic overlays for the America's Cup sailing tournament. "We're going to have some of those same weather graphics in the stadium," he said. "We tweeted out some of the weather from last weekend at MetLife stadium and what the wind does once it gets inside that stadium is pretty amazing … We're going to try to show people the wind if it's a story."
Additionally, Fox is looking into using infrared cameras to monitor body and ball temperature, which he thinks could enhance the broadcast. "Imagine on a touchdown, aside from regular cameras showing you if a foot was in or out, you actually have a glowing footprint after the player moves on with the footprint staying behind to show if he's in or out," he said.
For the coaches' part, as you'd expect they're preparing to muscle through and take whatever comes to them—despite concerns about the weather. In
an ESPN article
Seattle Seahawks coach Pete Carroll speculated that the team's Super Bowl prep this week will likely take place indoors in light of northern New Jersey's snow-covered MetLife Stadium. "We haven't had a chance to get over there yet, but we understand there's snow on the fields and they're frozen and we likely could be inside for most of the week," he said. Broncos coach John Fox said the team will also check out the facility, but that he "prefers grass" when it comes to avoiding leg injuries. He'll head indoors and practice on a synthetic surface if necessary, he said. But ultimately, a champion needs to be "weatherproof."