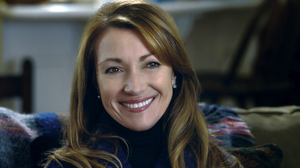 Actress Jane Seymour, perhaps best known for her TV role as "Dr. Quinn Medicine Woman," has a long history with Hallmark Channel. Indeed, her presence on the network dates back to its origins. "Dr. Quinn" was airing the night of the network launch in August, 2001 (it was called Odyssey back then), and when the episode concluded, she welcomed viewers over the airwaves in real time. Seymour has been in 3 Hallmark Channel movies in the past 3 years, the most recent being "Lake Effects," premiering Sunday May 6 at 8pm on Hallmark Movie Channel. Set in the community of Smith Mountain Lake in southwest Virginia, the film's low-budget production depended on the local residents' generosity—namely their homes, cars and homemade craft services. The outcry of local support even got Hallmark Movie Channel distribution with local operator Chatmoss Cablevision Inc. CableFAX caught up with Jane Seymour over the phone in Washington D.C., where she was set to attend her own 1-woman art show.
How did the community get involved during the filming "Lake Effects?"
The interesting thing was that this was made as an independent movie, and it was made by people who hadn't made a movie before. They got everyone around the lake to offer their homes, their cars, their trailers, their food—it was a major community effort, so the essence of what the movie was about, and that kind of community, was really what was happening around us while we were filming….[My co-stars] Scottie [Thompson] and Madeline [Zima] and I were staying in other people's condominiums and people's actual homes. All the local people had baked things for us—homemade jams, it was gift boxes galore. And we kind of started being a family. They'd go get the shopping for us, locals would drive us to and from the set. The three of us would get together like a mother and 2 daughters. A lot of what was happening on screen happened because we really bonded in real life. We'd work together all day and then we'd spend all evening together talking and asking questions and really kind of delving deep. It was a very cool experience.
So it was a low budget movie then?
It was pretty low budget. It was, 'hey let's make a movie.' Various people around me were asking, why are you making this movie? And then they read it and said, 'oh I can see why.' It's a beautiful movie. In fact, the editor who worked on it is an editor that works with my husband and I on major movies, and she just fell in love with it and said, oh I'll work on this. It was really one of those idealistic, amazing experiences. The wonderful thing is that Hallmark picked it up and now lots of people will see it. So I'm really happy about that. Hallmark saw it 100% finished and said hey, we'd like it.
How would you characterize your relationship with Hallmark?
I always think of it as being a channel that's really important to me. And the reason why is that of all the channels, it's one where you absolutely know what you're going to get. You know it's going to feel good, it's going to provoke you into thinking about things, and you'll probably have a roller coaster ride at the end of it. You'll have a good, warm feeling about life and a positive attitude towards what's going on.
What did you like about this role, and how did you prepare?
When I read the script I thought it would be a real sort of back woods kind of place, and I got myself ready with the accent and I even got some clothes that I thought a woman there would wear. [Laughs]….I'm the mother who stays behind, who was very much in love with the father who dies right at the beginning. Because I am a mother, I have 2 grown daughters, obviously I had that in common. [It's about] the idea that just because you're successful and make more money or are in high-powered job doesn't make you a better person. [It's about] how important is family, and what are your connections and what are the truths you carry with you your whole life that maybe aren't the truth at all. I think that's really what's powerful about the movie—all 3 women made choices, thinking that they understood the other.
What kind of roles are you attracted to in general?
All different kinds. Last year alone I did 4 different roles, and they couldn't have been more different from one another. "Lake Effects" is obviously this mother character, very unglamorous. The next one is called "Austenland." In "Lake Effects" I play with a Virginia accent, and in "Austenland" I had to remember to be frightfully British—the American director was very concerned that I sounded American so I went from talking Virginia to frightfully British in a day and a half. I was playing this woman who runs a retreat, a country house for American women who are obsessed with going back in time and living in the world with Jane Austen. It's very funny. So I did that and then I did a musical comedy that's not coming out until next year. It's probably the most expensive thing ABC Family has every done….From the sublime to the ridiculous I was dancing and singing. And then I did [TNT's] "Franklin & Bash." I think that's coming out in June or July. I play Peter Bash's mother and that was kind of a crazy, out there comedy. So, all 4 characters were completely different. Nothing remotely similar to them—not the way I looked, not the way I sounded.
Do you enjoy playing a broad range of characters?
Oh yeah, I've played completely different roles. Every time someone thinks they've pigeonholed me I get to surprise people. I'm really fortunate. I've had a career from ingénue all the way through leading lady to now character roles. I'm from the British tradition of being an actress rather than thinking of being a star.
Do you prefer working on films or television?
You know, I love good material. And if I make a great feature film obviously it's thrilling. But nowadays unless you make a $300 million action movie the chances are that most people will see that movie on television or on cable or DVD or Netflix or something. A lot of my favorite movies are movies about people. Like "The Artist," movies that are about the human condition. And those are independent movies. So I've really made a lot of independent movies recently, but I really value television, because that's where your main audience is. That's where most people watch it.
Are there any actors you'd love to work with?
Oh there are lots of them. I always think I'll jinx it if I say their names.
Are there any specific roles in history you'd like to play?
Well I've had a really fun run. I've played some great historical figures. I do love playing real people. I would say that's one of my favorite things to do. I got to play Wallis Simpson, Maria Callas, Marie Antoinette, Hazel Brannon Smith …. It's always great when you play someone you can really do research on. I'm more just looking for good material, and if there's a fun role in there…. And it doesn't have to be the largest part.
What was the most challenging role of your career?
I'd say that musical was fairly challenging, doing some of what I had to do in that one. But just in terms of staying healthy and coping with a really tough environment I'd say "War and Remembrance" was really tough. Playing Maria Callas [in the movie "Onassis: The Richest Man in the World"] was very hard—that was a major character role. I had to learn and perform 3 arias in 1 day. We worked 22 hours that day. A 22-hour day! It was the only day we had the theater.
And your favorite role?
I have favorites for different reasons. [The film] "Somewhere in Time" will always be a special moment for me because of my relationship with Chris Reeve, and it was just a beautiful movie. Obviously "Dr. Quinn" is very special to me because I got to be there for 7 years. "War and Remembrance" is very special to me because my parents both survived World War II and there were a lot of elements that were very close to home and it was very cathartic.
Do you seek out your own roles or do people approach you?
I redevelop projects too, with my production company. In the past we've done lots of projects that we've put together ourselves but recently I've been just reading what's out there and I've been offered things that were good.
Finally, did you enjoy working with the "Wedding Crashers" cast?
Oh I loved it. Absolutely loved it, loved it, loved it.
Any funny moments to speak of?
I had to room next to Bradley Cooper. We'll leave it at that. [Laughs]
Not a bad place to be.
Not a bad place to be, no. As usual, nowadays I end up being the mother figure and I watch everything happen and come and go. It's fun. I am a painter so I always take my paints with me. I set up an easel and I'd be painting away and see the kids come and go.
Is that how you occupy yourself on set?
Yes, quite often. It relaxes me. I find that I can't read anything, because if I do it takes me out of character. So painting and sketching is what I love to do