6 Figures to Note in GAO's Video Competition Report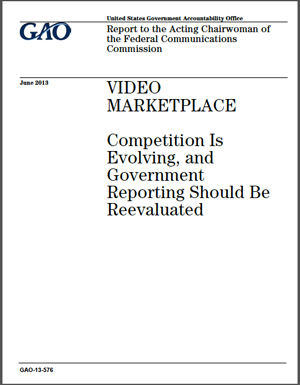 The Government Accountability Office released its 40-page report on video competition this week, concluding that competition has expanded among distributors and that the FCC should study whether to change the frequency of its annual price and video competition reports. Sprinkled inside were some stats and figures that the industry should bookmark. The highlights:
From '05-'11, cable rates rose more than 33.5% for both basic and expanded services, averaging $57.46 for expanded basic and $19.33 for basic. This is the figure that will be hammered again and again when people and groups make the case for a la carte or other cable regulations. Note that GAO wasn't pointing any fingers at cable over the price increases, writing that the cost of acquiring "must have" content continues to rise. It specifically pointed to ESPN's MLB contract, which will see the league receive a 100% increase ($5.6bln for '14-'21).
The FCC has missed filing 8 cable pricing and competition reports. Rather than chastise the agency, the GAO suggested the FCC look at possibly scaling back the number of reports. However, it will take an act of Congress for that to happen.
Of the top 20 cable nets by subscriber in 2005, more than half have experienced no change in ownership between then and '12. What did change during that period? Viacom and CBS split into 2 companies, Time Warner Cable was spun off from Time Warner and Comcast merged with NBCU.
Seven companies' broadcast and cable nets account for about 95% of all TV viewing hours in the US, according to an FCC report that is cited. Great fodder for those pushing for independents and diversity of voices or for those making a case against wholesale bundling.
Cable companies have seen their nationwide market share drop from 98% to 57% last year. GAO cited that stat from NCTA, and talked about the introduction of more competition in the space. Was it really just 6 years ago that then-FCC chmn Kevin Martin trying to argue that cable had reached penetration in 70% of homes per the 70/70 rule?
The price for basic, standalone Internet services provided by MVPDs in the zip codes GAO analyzed ranged from $19.99 to $69.99 per month. Not a lot of details on how GAO got to this figure, but interesting disparity.
Download the entire report
here
.