5 Questions with Mun2 GM Diana Mogollon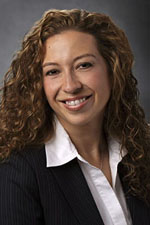 mun2′ gm Diana Mogollon
With the Hispanic upfronts in full swing this week, we caught up with Mun2 gm Diana Mogollon to talk about what's ahead for the NBCU-owned network aimed at young Latinos. Instead of joining in this week's upfront rush, mun2 broke from the pack and hosted its presentation in April. New series in production include "Horoscopos," which follows Mexican music stars Horoscopos de Durango. Fresh off delivering its best 1Q deliveries ever among in prime 18-49s and women 18-49, Mogollon pledged to keep the celeb-reality programming going even as it explores other genres.
What have you done differently this quarter?
It's about finding our sweet spot: We pioneer in the Hispanic reality genre. It's about partnering with companion net Telemundo and scheduling strategically. It's about packaging and marketing our content and catering to our core audience: young Latinos. It's also about winning Sunday night.
Tell us about your programming strategy going forward.
We will continue to expand our celebrity reality series. In addition, we are pushing more docu-reality. We also have some scripted projects in development. There is still more to do on the music front, such as covering live music shows.
You have a mix of Engish and Spanish programming. How do you allocate?
We try to stay away from allocating programming by language because it doesn't define who we are. The goal is to stay true and authentic. It's all about being culturally relevant.
What is mun2's TVE strategy going forward?
The medium age of mun2's core demo is 29. We are catering to the young adult Latino audience, who are tech savvy and desire accessing content on multiple platforms. Secondary platforms complement traditional TV. There's no cannibalism. We play within NBCU's TVE guidelines and the goal is to maximize viewer experience. Mun2.tv saw a 208% YOY increase in video streams for the 1st quarter. The growth can be attributed to the "Jenni Rivera Presents" series, which drove 60% of the total video streams.
Any trends in Hispanic content?
There are more entrants in the business. That means more opportunities to work together. The more cooperation, the better. It helps all of us in the Latino programming business. It means a more diverse programming industry.
With more entrants comes with greater competition. How do you differentiate the network?
No one else has a unique audience like we do. We have the largest bicultural and bilingual audience. Mun2 is producing over 200 hours of original programming with a mix of music, lifestyle and sports content. No one else is on par with what we offer.