Wisdom at Cablefax's Most Powerful Women Event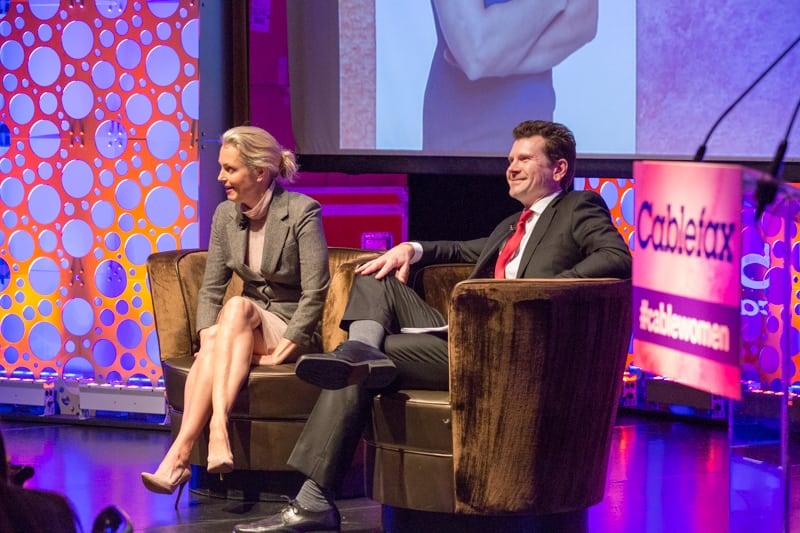 "I'm not a fan of regrets or do-overs, because everything you do leads to something else." Words of wisdom from Ali Wentworth, executive producer, writer and star of Pop's newest series "Nightcap," who delivered equal parts inspiration and laughs at the 2016 Cablefax Most Powerful Women lunch.
The event, held at the Edison Ballroom in New York, feted this year's top female ranks in all areas of the cable industry – and the mood was aptly celebratory, from power pow-wows during the cocktail hour to table centerpieces adorned with Fitbits, cosmetics and jewelry courtesy of HSN, which was a co-sponsor along with Pop.
Interviewed on stage by Cablefax publisher Mike Grebb, Wentworth shared her inspiration for "Nightcap," in which she plays the talent booker of a fictitious late-night show and features a revolving door of real-life celeb guests in ridiculous scenarios. "We live in a celebrity-obsessed culture," she said. "So any time you can see a celebrity being 'normal' or like us, it's funny."
To demonstrate her point: "We find ourselves saying, 'Look, Gwyneth Paltrow is steaming her vagina, she's so cool.' " Spoiler alert: "Gwyneth was great, she really makes fun of the Goop stuff," Wentworth said.
Cablefax Editorial Director Amy Maclean took the stage to share her story of "growing up" with the publication, having joined when she was 24. "I got engaged while working for Cablefax. I got married while at Cablefax. I had two children here… and through all of that, I've looked up to and learned from the Most Powerful Women in Cable," she said.  "In my earliest days, Carole Black and Gerry Laybourne were both women of firsts that inspired me. "I've had the pleasure of following so many of your careers and listening to your advice."
Wentworth had more gems to share as well. When Grebb asked what men can do to help lift women in the industry, she deadpanned, "Give us your jobs" to big applause, then added, "Actually, you're too cemented in your ways, there's really nothing you can do to help at this point. We'll find a way around you."
On weathering career ups and downs, she said: "You feel the downs, so when you have the ups, you enjoy them. Right now I have an up. You celebrate. Let your agent send you flowers, let your husband [who happens to be George Stephanopoulos] bring you breakfast in bed… None of this happened, by the way."
"It's very encouraging to see how cable overall tries to help women to be successful," said attendee Pirjo Tuomi, SVP, global cable sales, for Boston-based Guavus. "You come to this event and see women who are successful. And they are supported. It's tremendous. Every time I leave these events I feel happy."
And in case the vagina steaming piqued your interest, Wentworth advised, "Don't try it at home."  No joke.
Check out photos from the vent here.