2016 US Open Coverage Production Highlights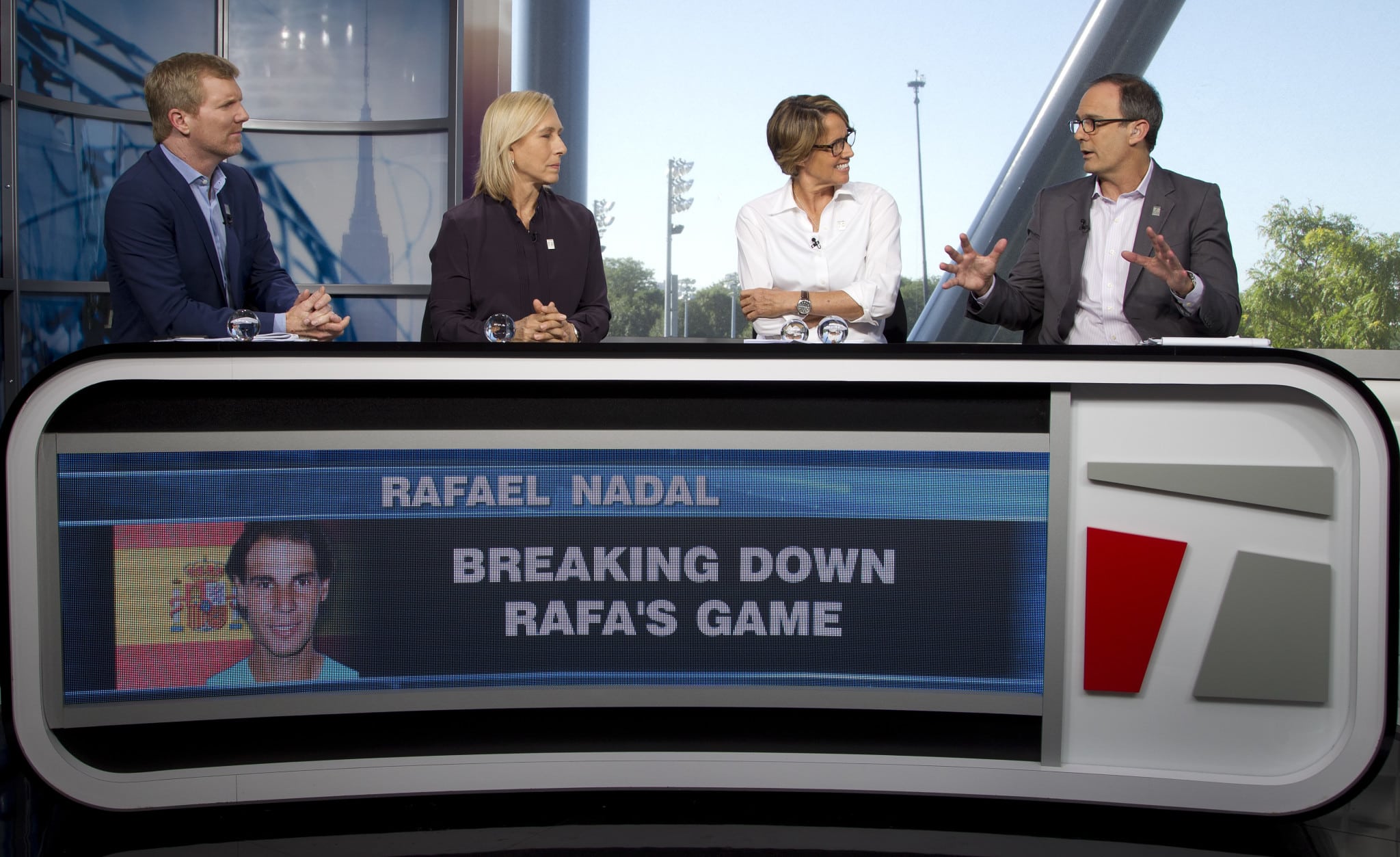 For the second year, ESPN has exclusive rights to air all live matches of the US Open, and it aims to entertain viewers with new technology and interactive press room coverage. Meanwhile, Tennis Channel will provide viewers with new shows and an expanded digital footprint.
ESPN Production
ESPN coverage of the 2016 US Open begins Aug 26, with 12-court coverage, up from 10 last year, beginning on the 29th. This year marks the debut of a new, retractable roof for the Arthur Ashe Stadium that negates rain delays, creating a continuous feed of live content via ESPN. Expect some cool tech toys for complete 360-degree coverage for what Jamie Reynolds, vp of production, said is "the USTA's coming out party." In their second contract year of three with freeD group, ESPN will continue their 360 replay technology. SpiderCam, part of the host broadcast feed, and RailCam will return, as well as the seventy-foot crane stationed outside of the venue for aerial and birds-eye views of the courts. Steadicams and indiscernible cameras will move around the stadium to showcase what the facility has to offer.
This year, ESPN is introducing a multi-camera signal feed of press room conferences, offering live press room coverage from 11am until the last interview. "In a multi-camera coverage, we will have robotic cameras trained both on the press corps or those in the press room at the time, as well as the principals speaking up at the rostrum," Reynolds said. "Our goal in that interactivity is to capture that dynamic, the enhancement of what folks find interesting to hear the firsthand account, both the questions, answers, responses, back and forth, get that dialogue, and offer it as a continuous service."
Tennis Channel Production
Though Tennis Channel no longer airs live matches, that hasn't stopped the indie net from airing an unprecedented 175 hours of coverage during the US Open this year. Bob Whyley, svp of production and exec producer, isn't concerned about the volume. "It's actually week 36 for us, we do this every week, it's all we do." For live matches, turn to ESPN. For encore matches and analysis, tune to the Tennis Channel. "We're great partners," Whyley said of ESPN. "We're different—we're a niche network."
The Tennis Channel has a unique partnership with Hawkeye, an analytical system that tracks everything on the court from the players' movements, ball trajectory, ball spins and more. "We use Hawkeye to tell the story, to talk about how a player has changed their game over the year," Whyley said. This technology allows the net to compare players' previous and current game, providing in-depth analysis to fans. "Our audience has a certain expectation on how we talk to them," Whyley explained. "Our programming is to talk up to our audiences."
The Tennis Channel's digital coverage expands this year, with additional content on www.tennischannel.com, social media, apps and connected devices. Exclusive video content, player blogs, live scores and match highlights will be available on all platforms. Tennis Channel subscribers to "Tennis Channel Plus" can relive other major championship matches from this year, featuring Andy Murray, Serena Williams and Novak Djokovic.
The net's new show "US Open Daily" hosted by Mary Carillo will air 11pm-midnight the first ten days of the tournament. Hall of Famers Lindsay Davenport and Tracy Austin, legendary coach Paul Annacone and Sports Illustrated's Jon Wertheim will join Carillo. Encore matches will air all night on "US Open Tonight" immediately following "US Open Daily." Beginning Aug 29 at 12am, the nightly show will run until the start of "Tennis Channel Live at the US Open" the next morning. The full schedule of "US Open Tonight "can be found here: http://tennischannel.com/tv-schedule/daily-view/.