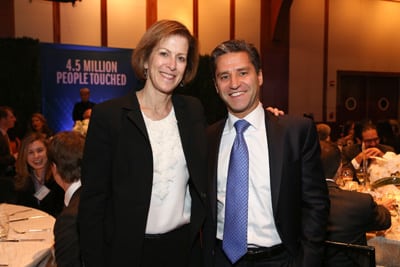 Rob Marcus, Time Warner Cable's Chairman and CEO, was honored at the
UJA-Federation of New York's Leadership Awards Dinner Tues, April 8, 2014.
Pictured: Alisa Doctoroff, pres of UJA-Federation of NY & TWC's Rob Marcus.
Time Warner Cable chmn & CEO Rob Marcus was honored with the UJA-Federation of NY's Steven J. Ross Humanitarian Award Tues evening—and the theme was "doing well, doing good." Marcus said he was "so honored, so humbled and so grateful" to be receiving such recognition—particularly an honor with Ross's name on it. He and the late humanitarian had never met in person, but they had done business on the phone, while Marcus worked at Paul, Weiss, Rifkind, Wharton & Garrison LLP and Ross led Time Warner. So "there is a certain symmetry to receiving this award," Marcus said. "Steve was larger than life," and affected his career greatly.
The TWC chmn also thanked Dick Parsons and Glenn Britt, "guys who taught me not only about doing well, but doing good." Perhaps the greatest compliment came from James Taylor, who wowed the audience with a special performance and charming anecdotes—like the fact that in 1968 he was the first artist signed to the Beatles' record company. "I just wish I could remember just a little bit. I heard it was fun," he joked. Taylor thanked Marcus for "making the world a better place," and said he was was glad to have discovered over the past few months that Marcus is indeed "a major, major, major mensch."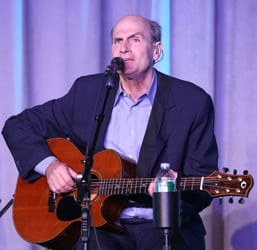 James Taylor gave a special performance for guests.
Event chair Michael Kassan, CEO of Medialink, said it was the largest event he'd seen in his 5 years serving on the UJA's board. There was one thing missing, though. Dessert. That's because in lieu of dessert, an in-kind donation was made on behalf of every guest in attendance to the Education Alliance, one of UJA-Federation's 100 nonprofits. "The Steven J. Ross award is one of the most important awards that the UJA-Federation gives out every year to worthy individuals, and I think Rob Marcus embodies the same vision and passion that Steve Ross led this community with in such a meaningful way, around the good fortune of doing well and then doing good," Kassan told us.