U.S. Digital Ad Revenues Hit $59.6 Billion in 2015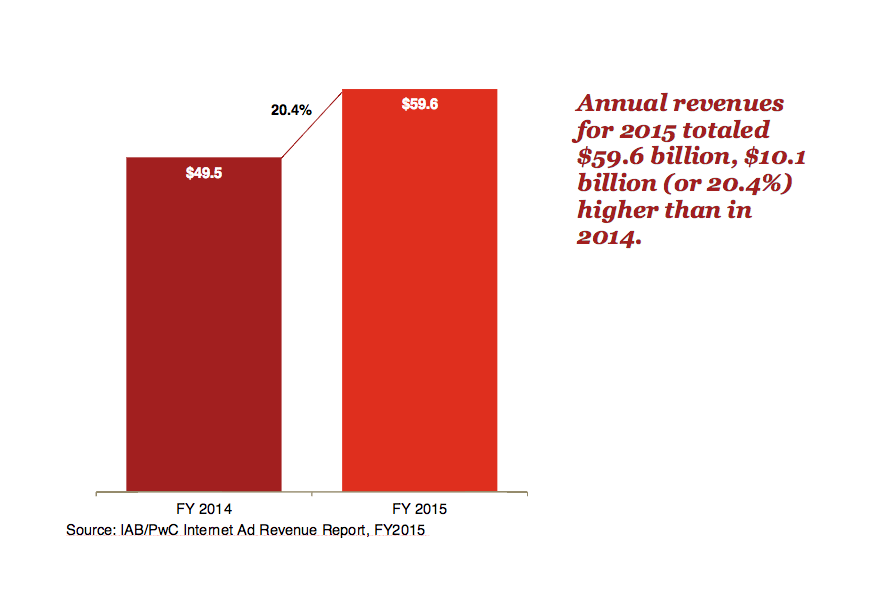 As we move through the upfront season, prepare for May's newfronts and gear up for INTX 2016 soon after, the topic du jour has become advertising—specifically the astounding growth of digital ad revenues and its relation to cable. Let's take a look at the latest numbers from IAB.
Digital advertising revenues in the U.S. amounted to $59.6 billion in 2015, according to the IAB Internet Advertising Revenue Report from IAB conducted by PricewaterHouseCoopers. It's an all-time high and represents a 20.4% increase from 2014. Broken down by quarter, Q4 of '15 accounted for $17.4 billion (an 18.3% YOY increase) and Q3 for $17.3 billion (a 22.8% YOY increase).
When considering market share by media type, Internet advertising revenue far surpassed both broadcast television and cable. Compared to the Internet's $59.6 billion, broadcast had $40.6 billion and cable had $25.7 billion. Every year since 2010, Internet advertising annual revenue has experienced double-digit growth—with no other type of media boasting that kind of increase.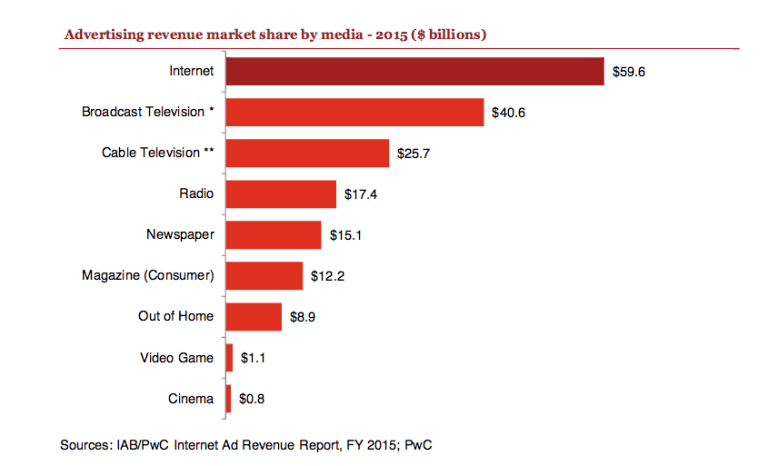 Most impressive was the rise of mobile advertising, which increased 66% for the whole year, reaching $20.7 billion. And mobile as a category accounted for 40% of Q4 revenues alone, which totaled $6.9 billion, a 77% increase from the $3.9 billion in Q4 '14.
Meanwhile, non-mobile digital video, a component of display-related advertising, hit $4.2 billion in 2015, a 30 percent increase over $3.3 billion in 2014. And when looking at social media advertising, defined as advertising delivered on social platforms, including social networking, social gaming websites and apps, it earned $10.9 billion in 2015, up 55% YOY.
In terms of categories, the largest continues to be retail advertisers, which accounted for 22% last year. Automotive and financial services each took 13% of ad revenue share.