TV Is Preferred Platform for Adults 18+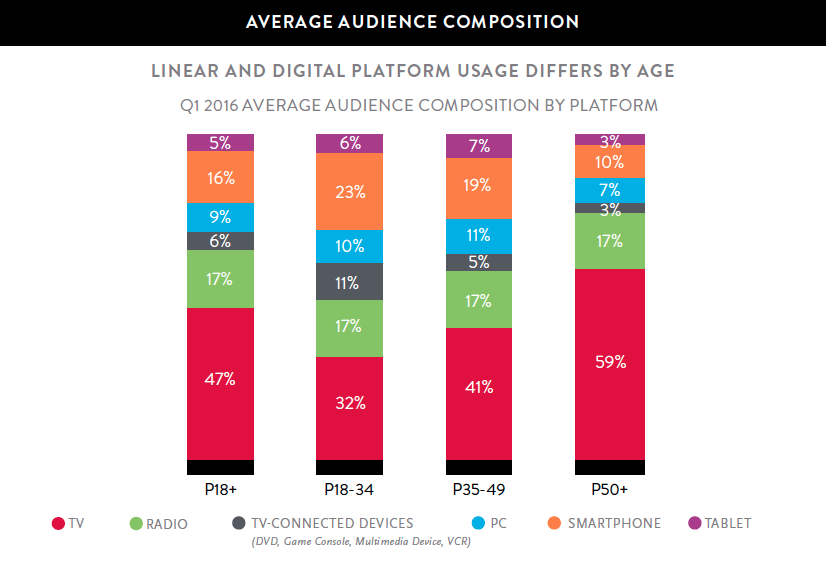 TV is the most preferred platform for viewing across adults of all ages, with Live+DVR/time-shifted TV viewing accounting for 47% of the total average audience among adults 18+, according to Nielsen's Q1 2016 Comparable Metrics Report.
The report focused on three basic concepts that are applicable to all categories of media measurement: how many, how often and how long. How many refers to the number of adults who use a given platform or content type in a week; how often is the number of days per week that those adults access the content; and how long refers to the amount of time the adults spend engaging with content.
The report found that age has a lot to do with viewing habits. While TV is the most preferred platform for adults, they are watching an average of 5.7 out of 7 days per week. Meanwhile, smartphones, tablets, PCs, and TV-Connected devices combine for half of the average audience for 18-34s. For the latter age group, connected TVs are used 4 days per week.
When looking at the "how often" category, millennials use connected TVs for more than 6 hours a week, and 52% of 18-49s use connected TVs. In terms of preferred devices for adults 18-49 overall, they spend more than 14 hours each week on their smartphones. Tablets are more popular with people ages 35-49 than those aged 18-34, the report found. For the group aged 50 or older, tablet penetration is just 19%, but tablets are used most often by those owners. (To see full size, click on the image below.)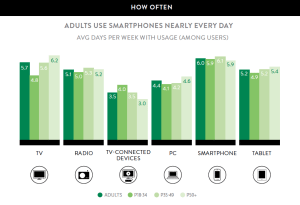 The study also took into ethnicity and race when looking at weekly usage. It found that black audiences watch more TV than any other group. Hispanics listen to radio more than other groups and spend the most time using their smartphones. And Asian Americans have the highest amount of TV-connected device usage.